Joee Blogs – a Catholic Londoner has some pictures taken today outside the Westminister Cathedral today that are quite interesting. Here is just one example of a whole series he has. [Via Michelle Malkin and Gerald Augustinus]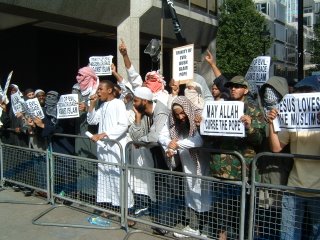 One thing that you notice in this demonstration is that there are none of the hand printed signs you usually see, but obviously computer produced ones like you could create with The Print Shop software. I did some checking and I believe this was the program they actually used: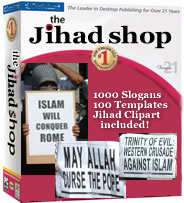 Discover the quick and easy way to print signs and banners and other items. Whether you are protesting the Great Satan, the Little Satan or their dupes around the world the Jihad Shop is for you. You can quickly print out professional protest signs that will make the the envy of your fellow jihadis.
Quickly select from a list of professionally designed templates and ready made slogans with classics like "Pope go to Hell!", "Jesus is the slave of Allah", and "Islam will conquer Rome" See these classics in action here. Don't just use common beheading threats, our large library of violent threats will spice up your protest sign.
Translation software allows you to enter in via various Arabic languages and output in English. Don't make the mistake of some protesters by not using English. Remember the signs are for the Western press.
English grammar software helps to prevent common errors like using "Mr. Pope" in a sign. Using Jihad Shop you will never print confusing messages like "Easy to be Pope, Hard to be Human."
Flag printing software lets you rapidly print out the flag of whatever country has insulted Islam today including the flag of the Vatican city state. The protests against the Danish cartoons took months to arrange since a large quantity of Danish flags had to be bought first and distributed. Prevent this logistic error of bad timing and protest right away whenever anybody dares to malign Islam in anyway.
Included free in every package is also a cartoon generation package. If a newspaper prints cartoons offensive to Islam or Muhammad, yet not offensive enough to gen up anger and outcry simply use are cartoon generation package to make up your own that will ensure outrage. Don't make the mistake of amateurs who passed off a grainy photo of a French comedian in a pig-squealing contest as a Muhammad cartoon.
Print out protest chants so that everybody at the demonstration can get in on the action. Use professionally developed protest chants like "Pope Benedict you will pay, the Muja Hadeen are coming your way" or create your own.
Create images to pass along in al Qaeda chat rooms and other sympathetic groups. This fine example was made via Jihad Shop.
Signs have a convenient direction arrow on the back when printed out. Sometimes it is really hard for brave protesters to see if their sign is right side up when their face is almost totally covered.
Jihad Shop comes with its own special paper that is both resistant to fingerprints and gun oil. When you take your automatic weapon to a peaceful demonstration you certainly don't want to mess up you sign after cleaning your gun.
System Requirements: *
Pentium® II 300MHz processor or faster
128MB RAM
Minimum 330MB hard disk space* (Recommended: 250MB of hard disk space to include all jihad related clipart.)
CD-ROM Drive
Operating system from Great Satan's Microsoft or Great Satan's Apple
* Yes we know you require Western made components to run The Jihad Shop. Though one day after all of our technical expertise is not directed towards improving suicide belts and and making more reliable timers for road side bombs we will build computer systems also!