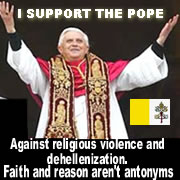 I though this was a short synopsis of what the Pope actually intended instead of the media's willful misrepresentation.
In another speech also at Regensburg Pope Benedict said "Science seeks vainly to make God unnecessary in the universe and our lives" I wonder when Jihadists in white lab coats will rise up against the Pope's intolerance against scientism. The editorial staff of Nature magazine will surely call for his beheading at any moment now. That they will burn the Pope in effigy over bunson burners is to be expected.
Update:
Kenneth Kully has made some extremely well done "I Support the Pope" banners which is much better than my own.