In this this day and age there are increasing threats to your MOS (Moral Operating System). Everywhere you look in the culture are moral viruses and immoral messages disguising themselves as movies, television shows, books, advertisements etc. Downloading to your eyes what at first appears to be valid program you might be surprised at all the bad content piggybacking on it. This sinware is bombarding your MOS constantly. What is sinware? Simply sinware is immoral information associated with content that is being downloaded to your MOS via the optic or aural bus without your specifically realizing it. Sinware has always been around and was first accidentally downloaded via an apple.
What can you do about sinware? Since becoming a hermit is not the vocation that most of us are called to we must rely on other methods to eradicate sinware. Previous non-technological models included an examination of conscience and repentance. Unfortunately for many the conscience component of their MOS have been corrupted by Sinware causing a conscience status report to detect no sins when in fact the MOS has been totally compromised.
Due to an amazing new breakthrough in technology using cranial nanobots and an associated software program you will soon be on your way to having a sinware free MOS. Introducing Sinbot Search & Destroy 2.0! Install Sinbot S&D on your computer, swallow the included vial of nanobots, and connect the receiver via the USB (Universal Sinners Bus) your computer. Run Sinbot S&D and follow these simple instructions.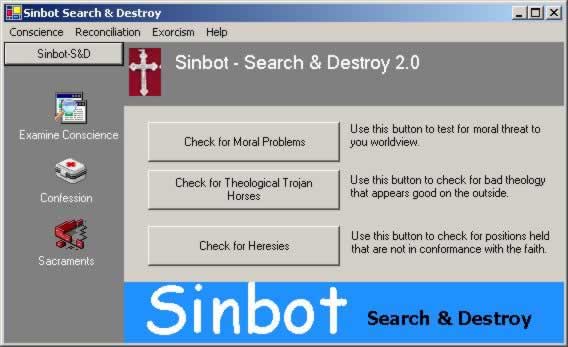 Click on "Check for Moral Problems" and fill out the included examination of conscience checklist. Check all the apply.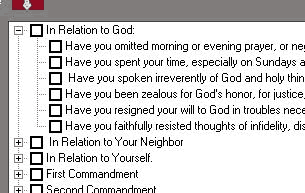 This step will only be required the first time you run Sinbot S&D since the nanobots must first be calibrated to the peculiarities of your MOS. On subsequent program operations the checkboxes will be filled in automatically. Once satisfied of your current sinful state click Continue.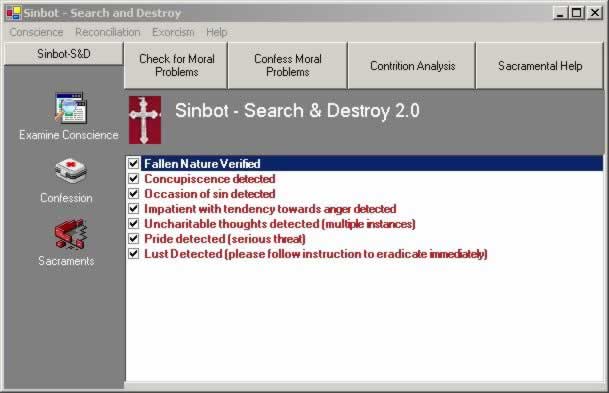 A list of sins both venial or mortal will be listed in order of MOS threat. You will then print out this checklist and present it to a Sacramental Delivery System (a priest) or you may go online at e-fession. You will need to supply your own contriteness (contriteness not included) and to carry out the penance given. You can then verify that all sinware was successfully eradicated by running another MOS scan.

In addition to sinware, Sinbot – S&D can also detect other MOS threats.
Theological Trojan Horses are theological programs that appear to be good on the outside and you take them into your home. Subsequently though they cause massive destruction of your faith via watered down theology and conformance to the culture. Many of these programs have been taken into churches so beware. Theological Trojan Horses can normally be detected because the theology makes you feel good without actually having to change anything about yourself or your natural beliefs.
Moral viruses. Here is an example list of some covered viruses and removal techniques.
Chittister Virus: Especially vicious causing you to constantly want to dialogue and question everything but your own tendencies. Burning the National Catholic Reporter is a good first step in eradication this virus.
Liturgical Abuse Virus: This is pandemic and especially hard to eliminate since it's spread is caused by progressive contact. A good whacking with the GIRM might help, but more likely prayer and fasting is in order.
So make sure your MOS is protected in this increasingly adverse environment by buying Sinbot – Search & Destroy at your nearest Catholic book store. Act now before it is too late before your MOS is shut down and sent to a hotter climate.
* Blogger Credit: This post was inspired by TSO's post here.