I rarely go to the mall since the stores there are almost always the type that bore me. Endless rows of store after stores selling mainly nothing but clothes and shoes is purgatory to me. There is even a mall in my town that doesn't even have bookstore within it – oh the horror! Though now it seems that just walking around is a near occasion of sin. The displays in clothing stores have moved into rated R and above territory. There have been reports of the infamous lingerie store that even placed some mannequin in basically sexual positions. Complaints to the store about this not being appropriate are meet with reply letters that basically said we are sorry for offending you but too bad. Why so people support these stores considering that it is risque business?
Of course the choice of clothes that people wear while walking around the mall is not that much more modest. Even worse are the clothes some choose to go to Mass with. I constantly amazes me how either someone can wear the most revealing clothes to Mass or to wear something that would not be out of place just lounging around recreationally. It seems every Sunday is casual Sunday or dress down Sunday. Judging by the clothes available at the mall maybe it is just the lack of appropriate selection. Instead of just ranting I have come across a business idea that I am hoping to take nationwide to help address this need.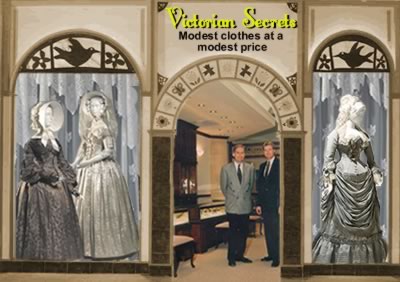 Yes Victorian Secrets! Where parts of your body are actually secret.
It is appropriate though to bring up one of the Old Oligarch's posts on modesty.
Surely some indoctrinated woman will parrot the feminist come-back to my position: "What's next? The burqa?" But the real perspective is this: The burqa and the bikini are polar extremes of the same fundamental error. Both styles of clothing deny the human dignity of the wearer. Virtue is a mean between the extremes. The modest woman, the woman with self-respect, wears neither the ostentatious bikini nor the humiliating burqa. Both the bikini and the burqa deny our Christian belief in the equal spiritual dignity of man and woman. Both manners of dress encourage onlookers to view the woman as subordinate to men in one way or another.
The burqa denies the Christian belief in the equal spiritual dignity of a woman because it obscures her face, which is the gateway to the heart and to the mind. A woman in a burqa is not permitted to publicly manifest the visible features most proper to her nature as a rational and emotive being — features which are the most proper to her as a human being. (Aristotle, for example, says that no animal has a prosopon, lit., a countenance, but only a man or a woman.)
The bikini likewise denies her equal spiritual dignity because it places primary emphasis on her body, and in such a way that it encourages others to objectify her body as a sexual plaything, not as a temple of Holy Spirit or as a magnificent creature of goodly design. Yes, I really mean a plaything. How so? Everyone who wants to, gets to enjoy it, regardless of their number, often in public, with no more personal involvement than the private satisfaction of one's own frivolous desire. That's a plaything. Indeed, some playthings are more jealously guarded.