Bill Cork reports that the infamous St. Joan of Arc parish in Minneapolis now has a new pastor appointed – Fr. Jim DeBruycker. It had previously looked liked the Interim Parish Life Administrator might be the diocese solution for this problematic and virtually schismatic parish. Unfortunately the choice of Fr. Jim DeBruycker who has been a regular for presider for Dignity at the Newman Center looks like more of the same. Dignity is of course organization that hawks pro-homosexual activity and same-sex marriage agenda – the antithesis of a group like Courage that is faithful to Church teaching. The fact that St. Joan's had previously asked him to interview for them doesn't exactly give you a warm feeling about his orthodoxy. St. Joan's wanting you is like an anti-imprimatur.
Though I have been working on exercising my charitable imagination as to why the Bishop might decide that a vibrant and orthodox priest was not what St. Joan's truly needed. Possibly he is using an approach like a nicotine patch. That is he will slowly wean the congregation at St. Joan's away from their heterodoxy with a succession of more and more faithful pastors. After the wildly heterodox Fr. Wertin's who participated in gay pride parades and constantly invited politicians whose goals were quite discordant from the Church to speak maybe Fr. DeBruycker will be an improvement. Since Fr. DeBruycker is a priest that was about to retire this won't be any kind of long term replacement and maybe the priest who succeeds him will even accept the Church's teaching on marriage and homosexuality. Maybe even one day you could even find a catechism within the wall of St. Joan's of Arc without them running in horror.
Though I do like the idea of a nicotine patch approach and maybe we could see a product lie this soon (we can only hope).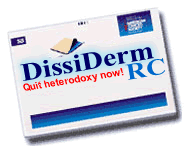 Because instead of going "cold turkey" the DissiDerm RC patch helps your theological system to slowly wean itself from watered-down Catholicism and the columns of Fr.Greeley. If your theological immune system has been weakened by years of theological abuse and your tired of your theology stinkin' up the place then DissiDerm RC is for you.
Just use one of our specially made patches once a day and in no time at all you can look at a picture of our Holy Father Pope Benedict XVI without cursing! Sound too good to be true? Then just listen to just some of our satisfied customers.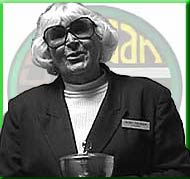 Echo Thoren a member of SJA who works securing the 1000 plastic seats for Mass in the gym was rather hesitant about the DissiDerm, but had this to say "When I first tried using DissiDerm oh it burned and burned and so I had to use one of the weaker patches. I am surprised at the results. I actually said Father, Son, and Holy Spirit without injecting feminine pronouns or substituting the divine names with other nouns like creator, redeemer, and sanctifier without breaking out in too much of a sweat. Though there are side effects. I can no longer appreciate the Masses held in the gym like I use to and I actually found myself thumbing through a book by George Weigel!"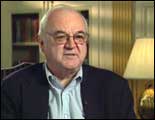 Read this amazing testimonial by Fr. Richard P. McBrien from the University of Notre Dame. "One of my students of whom I know suspect must be connected to this blog tricked me by telling me that this patch was really the latest in protest badges and that this white round sticker symbolized the Eucharistic host and specifically solidarity with women who were not allowed to be priests. I can't tell you the contrary feelings it caused as my theologically heterodox immune system fought it with all it could muster. I knew something was wrong when I started looking around for my old clerical collar to wear. I was proofreading one of the columns I was about to send in and I noticed something wrong with it. It diverged substantially from the consistent truth as taught by the Church Jesus established and just quite frankly stunk. I started looking through my old columns and was horrified to find what I had wrote throughout the years was equally mediocre. I must have been theologically insane to utter such trite nonsense and I don't understand why anybody put up with this vapid silliness for all these years. I rewrote my column using sources like the Fathers of the Church and other rich veins of Catholic thought from our magnificent tradition, though unfortunately for the first time the National Catholic Reporter rejected my column. I am even thinking of submitting it to the National Catholic Register instead? Thank you DissiDerm RC!"

Cardinal Roger Michael Mahony Archbishop of Los Angeles. "I volunteered as a test subject just to prove how ridiculous this concept was. After a week I was convinced that it indeed had no effect on me, but when I drove to the Cathedral I found some concrete monstrosity resembling a parking garage. I had at first though I drove to the wrong place and then I realized that not only was this hideous looking thing a Cathedral but that I was the one that was responsible for having it built. All I can say is mea culpa, mea culpa, mea maxima culpa. Now if you will excuse me I am off to re-read what has now come to be one of my favorite encyclical Redemptionis Sacramentum and to encourage some of my parish churches to be open to the indult Tridentine Mass and to ensure that all Masses our reverent and conducted in conformance to Church instruction."
Yes you too will be amazed at the results as you go from heterodoxy to orthodoxy. That you actually find yourself believing in the resurrection of Christ and that your a sinner in need of redemption. Words like dialogue and phrase lik "Christ event" will drop from your vocabulary, though don't blame us if your subscription to Commonweal no longer makes sense to you. Buy now and receive a free hardcover Catechism which will be sent to you after you have been on the program for a minimum of two weeks so as not to cause a theological shock. Instead of being watered-down be born of water and spirit and rejoice in the splendor of truth.