Have you ever pondered Jesus words in Luke 12:49?
"I came to cast fire upon the earth; and would that it were already kindled!
and then look at Revelations 3:1 and 2 to see:
"I know your works: you are neither cold nor hot. Would that you were cold or hot!2 So, because you are lukewarm, and neither cold nor hot, I will spew you out of my mouth."
Have you ever wanted to test to see if you are truly a Christian "on fire" or one that could one day be cast into unquenchable fires? Are you just deluding yourself that you are on a narrow path and is there an objective way to measure spiritual growth? The answer until now required an objective spiritual director, that is until this breakthrough introduction of Ron Coe's Spiritual Thermometer ST-1000. After all not not everybody is given tongues of fire for a visual indication.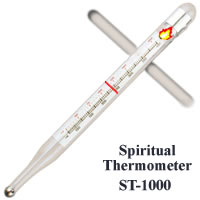 You really don't want to find out at your last moment that your spiritual temperature was actually lukewarm and could induce vomiting in Jesus? Who really wants to be the equivalent of Ipecac Syrup when at the judgment seat? The ST-1000 unlike regular thermometers gives you and immediate warning indication when you are not running a spiritual temperature and are approaching or are at a serious spiritual health risk like lukewarmness. If the ST-1000 indicates that your truly are on fire then praise God and pray that he may keep you in this state. For others immediately institute a regime of prayer and fasting as recommended by 33 out of 33 spiritual doctors of the Church. Spiritual reading especially the Holy Bible should also help to increase your spiritual temperature. Frequently availing yourselves of the Sacraments of the Church is also highly recommended especially regular confession to reduce blockages due to sin.
No good Christian home should be without the ST-1000 to protect its members against Laodicean Syndrome or other spiritual sicknesses.
Jesuit General's Warning: If spiritual coldness or lukewarmess persist immediately seek help via your local priest and/or spiritual director.