Are you a Catholic parent looking for the best educational experiences for your children? Would you like a truly educational game that teaches geography in a Catholic setting? Were you a fan of the old Carmen Sandiego series. If you answered yes to those questions than we have the game for you.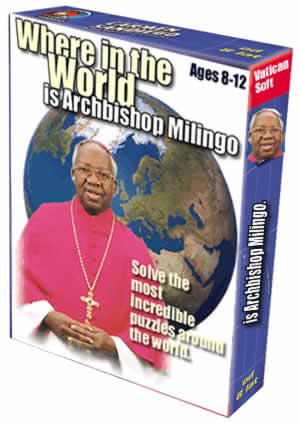 Vatican Soft introduces the best educational experience to help teach geography via everyone's favorite wacky bishop, Archbishop Emmanuel Milingo. Your child will learn world geography as the Archbishop disappears and reappears around the world. You just never know where he is going to show up next. He could show up in Zambia, Korea, the Vatican, Washington, D.C. or just about anywhere in the world at any time.
Follow the clues when he inevitably disappears once again and try to track where he has gone. Unfortunately the Vatican has not yet inserted a GPS tag below his skin to easily track him, but this gives you the opportunity to use your intellect to discover clues and find his present location. Each game scenario is time sensitive and you better hurry before he surfaces and subsequently jumps below the radar once again.
You will be amazed at all the possibilities surprisingly based on real life events. Will he show up in a soul group, a Moonie wedding, sackcloth and ashes at the Vatican, or in the capitol of the United States announcing a new mission to end celibacy for priests? Who knows where he might show up next, but it is your task to give it a shot. Regardless, you are sure to learn lots of world geography along the way.
So gear up for a world-wide adventure that will intellectually keep you on your toes and learn about hundreds of countries and cities along the way.
Where in the World is Archbishop Milingo is loads of fun and you will soon forget this is an educational game as you chase Archbishop Milingo around the world. The Vatican has a hard time keeping tabs on him, can you do better?