I have been reading the Divine Office for a couple of years now and I guess I have been doing Vespers all wrong. I must have missed out on the dance steps in the guide book I buy each year. Just look through these photographs of some Canadian Dominicans doing Vespers starting here. [Via Being! or Nothingness]
Update: Somehow I think original sin might be involved in this, but I just couldn't stop myself from creating the following animated gif I call the Domini can – can.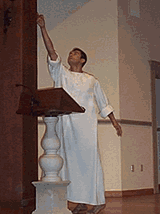 This exactly how William Shatner would do interpretive dance.