Are you tired and lethargic? Is your prayer life next to non-existent. Are you both physically and spiritually flabby? Do you keep promising yourself that this week you are going to work on your prayer life, but you keep putting it off. Do you need to lose a few pounds or to tone up and you don't get around to that either? Are you puffing for breath after only one decade of the Rosary? You finally decided that you will spend that little extra time you have in prayer, though you also know you need to take care of yourself. So what do you do? Finally here is the answer. Why not do both at once? Get into condition while strengthening your contrition. Work on your ab formation while doing some adoration! Get both physical and metaphysical!

We at Curt Jester Sports have created a new line of spiritual exercise equipment to help get you into shape.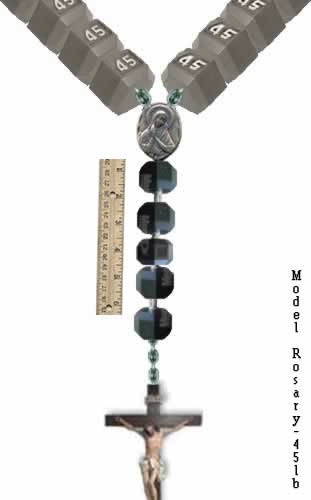 This is our new weight training rosary which comes in various weight sizes that uses a combination of weights for beads and dumbbells. This rosary comes in various weight sizes. From 2 1/2 pound weight beads for the beginners to the 45 pound weights shown here. You will be amazed at your spiritual and physical strength after a few short weeks of praying/lifting this Rosary. As you grow deeper in the mysteries your biceps will be bulging and your meditation and intercessory abilities will also increase.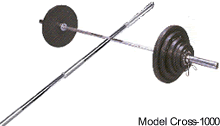 Jesus instructed us to pick up our cross daily and follow him. People often complain about having a heavy cross to bear, but you can start of slowly and add weights as you go. You will be pumping iron and praying like a prophet in no time. We suggest you pray the Jesus prayer in between reps as this prayer is a proven remedy for your pride and the weights will help your stamina. You might become meek, yet you sure won't be weak!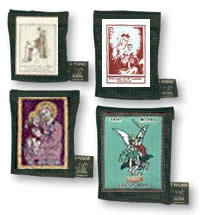 Even when you are not directly spiritually/physically working out you can still receive the benefits of our fine exercise merchandise. A scapular can aid you in devotion and remind you of your commitment to God. Our scapulars are filled with #6 lead shot so that every time you bend over and straighten up you can still be working out. Our scapulars are available in four styles and four weight sizes. Our Lady of Mount Carmel (brown and red), St. Michael the Archangel, and St. Joseph and Child Jesus. Each scapular is finely made with a Double-Velcro Safety Closure and weight sizes of 2, 3, 4 and 5 pounds.
*All of our workout sacrametals are protected by our special formula sacra-sweat. This keeps our workout sacramentals smelling fresh with the odor of sanctity, and not something else entirely.
For the Brown Scapular if you are not already enrolled in a Weight Training Scapular Confraternity, please see a priest at your local gym.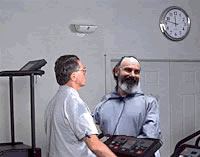 In a partnership with Fr. John Corapi and other priests, Curt Jester Sports is proud to offer you the best and toughest in Personal Spiritual Trainers. When Fr. Corapi says "Get down and give me ten Hail Mary's", you better listen and start praying. The last person who gave him some lip is still itching from the hair shirt assigned. Your flabby soul will be fit in no time as our Personal Spiritual Trainers exercise those pounds of vices right out of you. You won't be roly-poly and will be on your way to be holy!
For those who are unable to afford a full time Personal Spiritual Trainer we also have a series a tapes to help you pray to specific saints and to ask them to help you to get into shape. This tape set called "Sweatin' to the Holies" will get your feet moving and your lips moving in supplication in no time at all.
Those that have a month to spare can come to one of our gyms for the Physical and Spiritual Exercises of St. Ignatius of Loyola; a program of running, weight training, meditations, aerobics, prayers, and contemplative practices that help your Catholic faith become more fully alive in the everyday. In no time you will be humble and ready to rumble.
Also available are are don't-sweat-it bands. Each band is made of high quality fabric and elastic and say "God is in control." in white lettering.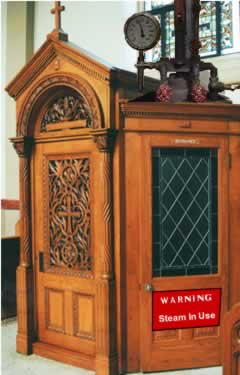 Our patented steam-confessional will really melt off that extra weight. If you give a good confession you will be amazed at how light you feel after leaving the confessional. Your heavy conscience will be greatly lightened – and it is not all just water weight. So sit back relax and feel the heat and get grace so that your sins don't repeat.
So just start now your physical/spiritual exercises and remember No Pain, No Gain. No Virtue, No Grace Accrue.