Jesterware presents the latest in interactive political gaming, Deanings.
Deanings are darling little creatures who follow Vermont governors over the political abyss. Your goal is to try to stop them from committing political suicide. This is no easy task. Deanings are dense angry militantly anti-war creatures who no matter what comes out of their leaders mouth, gladly follow him over the edge.
Your weapons are the truth and the Governor's record. You must apply these with skill since Deanings are pretty much resistant to this. Another of your foes is the major media bias. When you try to use your weapons the media comes in and neutralizes them with massive spin weapons equivalent to daisy cutters.
In Deanings, score doesn't matter. The counter shows the current money raised, but this is all to no avail if only one state goes Deans way.
Game play is high speed and you must be really quick to stop a Deanings before it flip-flops and changes direction.
Contains geopolitical game play. In the North you can select "Separation of Church and State" mode and in the South "Committed Believer of Jesus" mode.
Occasionally Bin Ladens and Saddam Hussiens will appear on the screen, ignore these. Deanings aren't sure they are guilty and killing them won't improve game safety.
Often times Deanings will roll up their sleeves and start shouting out incoherent ideas. You can safely ignore this during game play. This is their default behavior.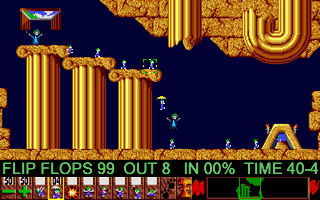 (Screen Shot)
As an added bonus Deanings includes RPG (Role Playing Game) features and you can increase your points with experience.
For added realism Foreign Policy points start at zero.
Reviews
This game is just as good as it's predecessors, Mondale and Dukakis. —Political Gaming
This game is really hard, not for the beginner. Keeping Deanings from falling over the cliff takes a master gamer. — National Gaming Review
One out of Fifty Stars, just like the election. —Conservative Games
The most interesting theory that I heard, which I did not believe, was that the Saudis had tipped Bush off to this game.
—Dr. Howard Dean