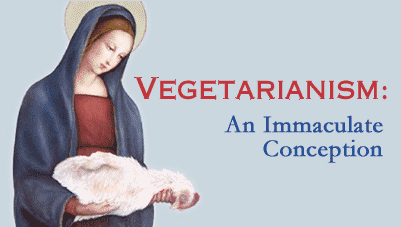 The billboard shows the Madonna cradling a chicken in her arms and below reads a caption, "Go Vegetarian-It's an Immaculate Conception."
PETA intentionally chose Providence to launch its message because the state is home to the highest number of Roman Catholics.
The group hopes people will steer away from food that is killed.
[Full Story]
I like the inadvertent slip of "steer" away. PETA continues it's campaign of using Christian imagery to try to make their case, but if they are going to work so hard to try to offend Catholics then at least they should get their dogmas straight. They have confused the Immaculate Conception with the Birth of Jesus which is a common Immaculate Miss-Conception. On December 8th we celebrate the Immaculate Conception of Mary. You would think that people would not get this confused since there is such a short period of time between December 8th and the Birth of Jesus on December 25. Either they believe that Mary was pregnant for only a little over two weeks or that she carried Jesus for over a year.
The silliness of the whole "Jesus is a vegetarian" thing really only backfires against PETA. They are not going to convince people to be vegetarians by lying to them. If Jesus was such a promoter of vegetarianism then he certainly gave off some mixed messages and metaphors. The whole killing of the Lamb for the Passover and Jesus being the sacrificial Lamb of God seems to give a different message. But maybe God really did want to use vegetables instead in sacrifice but gave up after some initial confusion. What if God had told Moses to tell the Israelites to sacrifice a vegetable such as the lentil plant. "You must sacrifice a lentil and then place the fluid on the door and lintel." "What? How can I put the lentil on the lentil?" "No I said to put the lentil on the lintel, oh nevermind – sacrifice a lamb instead."
I am personally glad that God did choose a lamb as the sacrificial image. It would be just strange to hear the "Potato of God, you take away the sins of the world". Then again, what if instead of saying "I AM" he really said "I YAM."
It would also sound weird if Isaac had said "Behold, the fire and the wood; but where is the Asparagus for a burnt offering?" and Abraham tells his son "God will provide the Asparagus" and then before Abraham attempts to sacrifice his son an Angel calls his attention to an Asparagus conveniently caught in a thicket behind him.