I had almost forgot about. Somewhere around two years ago Matthew Warner asked me to send in a video question for his "Ask Fr. Barron" series.
So I tried to ask a somewhat intelligent question and of course got back a very cogent answer.
One nice thing about seeing this video other than the total Catholic geek-out of having Fr. Barron respond, is that since I made that video I have lost over 60 pounds and have kept that weight off after over a year.
So while I am still what Mark Shea would call a "Jolly", here is a more recent picture of me.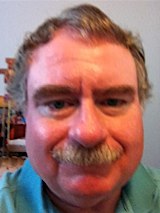 Matthew Warner's blog Fallible Blogma