Via Wesley J. Smith
Har de har: The BBC is creating a comedy series called Way to Go about friends who establish an assisted suicide business. "Way to go:" Get it?

I am reminded of the recent The Three Stooges movie homage to the original comic team that had the boys willingly attempt a mercy killing.  This is nothing less than the normalization of suicide.

Oh, and by the way, this idea was already proposed for real in Oregon ($5000 for the whole package, including music and flowers), but the psychiatrist would-be entrepreneur lost his medical license for other reasons before he could open the doors.  Meanwhile, in Switzerland, suicide clinics rake in the dough.

Culture of death, Wesley?  What culture of death?

Msgr Robert Hugh Benson a Catholic convert and son of the then-Archbishop of Canterbury wrote a quite excellent apocalyptic novel called "Lord of the World" where he envisioned in his future world "ministers of euthanasia."
"He gave no more thought to his exposition of the Christian creed; it was a mere commonplace to him that Catholics believed that kind of thing; it was no more blasphemous to his mind so to describe it, than it would be to laugh at a Fijian idol with mother-of-pearl eyes, and a horse-hair wig; it was simply impossible to treat it seriously. He, too, had wondered once or twice in his life how human beings could believe such rubbish; but psychology had helped him, and he knew now well enough that suggestion will do almost anything. And it was this hateful thing that had so long restrained the euthanasia movement with all its splendid mercy."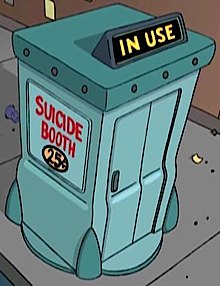 This idea of euthanasia being a splendid mercy is certainly on the upswing especially with the very idea of a "mercy killing" which displays the irony of Satan. But it is more despair than mercy that drives this and it is usually not the despair of the victim, but the despair of the mercy killer towards an actual understanding of the dignity of life. You certainly don't look at the paintings of the late Dr. Kevorkian and find joy in them.
We can only expect more and more positive portrays of assisted suicide in the media. In the movie Soylent Green we say a portrayal of this and we learned to be more alarmed that "Soylent Green is people" than that the character Edward G. Robinson seeked assisted-suicide at a government clinic in despair at this fact. Whether murder in this form will take the path of the government clinic, faux-religious component, or a combination of the two remains to be seen.
"We should neither of us shrink from the task, awful though it be to contemplate. "Euthanasia" is an excellent and a comforting word! I am grateful to whoever invented it." — Dr. Seward in Dracula by Bram Stoker