The recent 35th anniversary of Elvis' death reminded me of another 35th anniversary.  I was in boot camp in San Diego when Elvis died, but I was really not any kind of Elvis fan then.  It was a couple days later while still in boot camp that I saw the newspaper headline that Groucho Marx had died on August 19th 1977.  That hit me much harder. Unfortunately the Navy wouldn't let me apply a grease paint mustache on myself in memorial.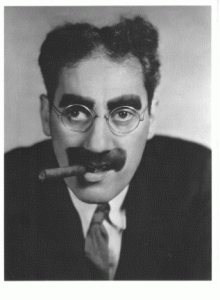 I simply loved the Marx Brothers, but it was Groucho who was always my favorite and when given the  opportunity I would dress up like him on occasions such as a Thespian party in High School.  I would scour the TV Guide so as to know when a Marx Brothers movie was on.  In the days of broadcast TV and also pre-VCR is was a real treat to find when one of their movies was one.  It was certainly a rare treat and I was certainly an aficionado of the movie comedy starts of the past.  W.C. Fields was my first great favorite and I quickly impersonated his voice and mannerisms and also played him on stage.  My first experience of a Marx Brothers movie is lost in memory to me, but the effect of it wasn't.
In high school I read all the biographies of the Marx Brothers I could get my hands on and their are just so many interesting and often funny stories related to their life growing up poor and trying to make due.  The talents of all the brothers is really quite amazing and even true to some extent for Zeppo and Gummo who would play the straight man to them.
Julius Henry Marx a.k.a Groucho had perfect comedic timing which was constantly crafted among the brothers in their time from Vaudeville to Broadway and to the movies.  In laters years when Groucho hosted "You Bet Your Life" his wit was especially on display.  His repartee with the guests on this game show was often over the head of the contestants, but it certainly made for some of the funniest moments on television.   Starting out as boy singers on the Vaudeville circuit his musical talent was developed leading to the hilarious delivery in-character of the songs in their movies.  Especially notable in "Duck Soup".
Unfortunately he did not exactly lead a happy life going through three marriages.  But he was ever the jokester once having written "smuggler" as his occupation when going through customs.
Once when attending "Jesus Christ Superstar" with Elton John he asked "Does it have a happy ending?", well here is to happy endings and may the light of Christ have shined on Groucho.