Jennifer Fulwiler of Conversion Diary starts a meme.
I want to see where you write! On Wednesday, I'm going to put up a linky list where fellow bloggers and writers can link to posts where they give us a tour of the spaces where they write, so start snapping pictures now. (And I'm defining "writer" very loosely here: if you create Facebook status updates, you're a writer in my book.)

I realize that not everyone in the world thinks that this is a fascinating topic — but I am fascinated by it enough to make up for them. And I want details! How do you organize your space? What kind of pens do you have in your cupholders? What else do you use this area of your home for? What does your chair look like?
Well for one thing my workspace is totally scorpion free. (Inside joke for fans of Jennifer Fulwiler).  I am glad she is defining "writer" very loosely, since I very loosely would describe myself as a writer.
Well the answer about pens is easy, I hardly use one. My illegible handwriting skills would have got me in to med school. My organization is almost all virtual via the computer.
The majority of the writing and coding I do is in my living room.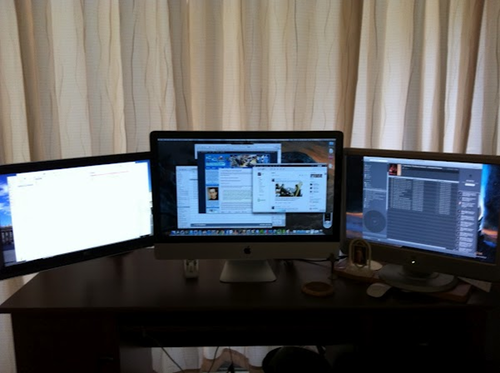 Though I take my iPad throughout the house for reading and research of stories I react to or inspire me towards a a new parody.