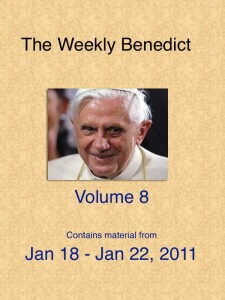 This is the eight volume of The Weekly Benedict ebook which is a compilation of the Holy Father's writings, speeches, etc which I pull from Jimmy Akin's The Weekly Benedict.
This volume covers the last week with material from Jan 18th to Jan 22th.
As Jimmy notes:
Not much this week, despite a lot of recent activity from the pope. There's some really good Benedict-ions waiting to be translated into English (I am particularly waiting for translations of his annual January addresses to the Roman Rota and the Congregation for the Doctrine of the Faith, both of which are up in Italian). I wish the Vatican translation squad would get moving and get them done and posted.
The Weekly Benedict – Volume 8 – ePub (supports most readers)
The Weekly Benedict – Volume 8 – Kindle