Here is a worthwhile new family business that specializes in making dolls of sisters with habits from specific orders.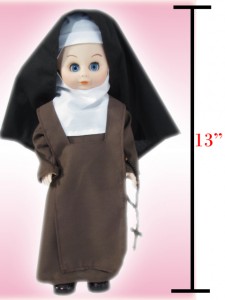 While I am partial to the Carmelites as shown above  they also currently have Sisters of Life, Holy Spirit Adoration Sister, Apostolic Sister of St. John, and Sister of the Visitation.  Personally I would also like to see a doll for the Dominican Sisters of Mary.
Since this is a family business faithful to the magisterium you won't see nuns dressed in polyester pant suits with sensible shoes.