There has long been an attack on anti-abortion posters that actually show the result of the faux "right" and certainly there is a prudential decision involved where such posters help the pro-life cause and not hurt it.
Yet.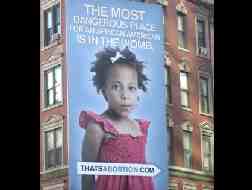 This poster has also created a controversy causing it to be torn down. Obviously the only acceptable pro-life poster is no pro-life poster.
Why is it people can overlook the preponderances of abortion clinics in minority neighborhoods and yet get upset about this poster? Why is it Planned Parenthood can give an award each year, The Maggie, named after a notorious racist who planned to specifically reduce the population of Blacks? The specific focus of abortion for Blacks which unsurprisingly as a result has the highest abortion rate is not exactly a closely guarded secret. Remember the previously taped phone call where a man calls into Planned Parenthood asking if he can donate money for abortion of Blacks only to be answered with "Yes."
This is a perfect example of not seeing any trees because the forest gets in the way. While abortion is an equal opportunity killer some people are more equal than others with Animal Farm logic. Margaret Sanger's "Negro Project" continues and just as before Blacks are used to advance the very effort to reduce their numbers.
In this world though abortion clinics in minority neighborhoods is not the problem, the problem is a simple poster to remind people that the most dangerous place for African American children is the womb of their mothers. I does not even mention 300,000 black unborn people are killed each year. No graphic photo, just the truth in a short message.
"This is an atrocity," said Darcey Merritt, 42, who is African-American and a professor of social work at New York University.

"If a little person of color walks buy and sees this, what message does that give about his or her mother, about other black people and their worth?" Merritt said. "This is dangerous."
If only he was saying this about the abortion clinic in his neighborhood.