Fr. Jenkins replies about the Notre Dame controversy.
"Presidents from both parties have come to Notre Dame for decades to speak to graduates about our nation and our world. They've given important addresses on international affairs, human rights, service, and we're delighted that President Obama is continuing that tradition," Jenkins said
One upon a time there were presidents you might have disagreed with prudentially, but they were not advocating intrinsic evils. Just saying this has happened in the past does not mean it should continue. In fact I think Catholic schools should get totally out of the business of inviting politicians to speak on campus regardless of party affiliation. There are plenty of inspiring and faithful Catholics that should be the ones invited for these roles.
Jenkins made clear the University is not honoring the president for his stances on these issues, but for his leadership.
Giving an honorary degree is not honoring someone – what?
"The invitation of President Obama to be our Commencement speaker should in no way be taken as condoning or endorsing his positions on specific issues regarding the protection of life, such as abortion and embryonic stem cell research," Jenkins said.
Yes giving an honorary law degree to someone who says Roe v. Wade was rightly decided in now way is a mixed message. Funny that pretty much everybody that heard the news thought that this does indeed condone or at least minimize his extreme anti-life views. Amy Welborn is not exactly some wild-eyed pundit and when she titles a post on this "speechless" that pretty much says it. Ralph McInerny who is not prone to hyperbole says that this invite tells America that the teaching on abortion can be ignored. Just why is it that Fr. Jenkins can give an honorary degree despite the USCCB saying that you can't in these circumstances. If he is aware of this restriction why does he feel he can ignore them?
These "crucial differences" in positions on the protection of life are not being ignored in extending the invitation to the president, Jenkins said, but rather can be used as a catalyst for dialogue.
You knew that was coming. You can justifiy anything if it is about "dialogue" don't you know. This was basically the same excuse used to justify productions of the obscene and evil Vagina Monologues. So this latest decision is no great surprise. We have covered this ground before.
"We are not ignoring the critical issue of the protection of life. On the contrary, we invited him because we care so much about those issues, and we hope for this to be the basis of an engagement with him," Jenkins said.
So how does that happen? When you invite someone to a Catholic university to give the commencement you are giving them and others the message that they are an acceptable speaker and role model. This is not engagement, but surrender.
"You cannot change the world if you shun the people you want to persuade, and if you cannot persuade them show respect for them and listen to them," he said.
This is a silly argument. Not choosing someone for the commencement is not shunning. Otherwise everybody in the world not invited for the commencement are being shunned. You do not show respect by capitulating your values.
President Obama is "an inspiring leader who has taken leadership of the country facing many challenges: two wars, a really troubled economy, he has issues with health care, immigration, education reform, and he has addressed those with intelligence, courage and honesty," Jenkins said.
Well we can prudentially disagree with that. He has been a disaster for the economy and the added trillions in debt and his idea of education reform will not be open to Catholic thought when the state is given the role as primary educator. As for honesty – I have to laugh. He lied when he justified ESCR when it was already legal, just not federally funded. He lied about cloning saying he was against it when he has no problems with clone and kill. He lied when he promised that all bills would be on the White House web site for five days to be commented on by the public before he would sign. He has broken plenty of promises, so to say he is honest is silly. Remember he called the National Right to Life liars when they told the truth about his record.
He then goes on about his being the first African American President, but we don't get past race by mentioning it at every corner. If this is his claim to fame then it goes far from Martin Luther King's wanting people to judge based on content of character.
The Office of the President issues honorary degrees, and he "consulted with many people" about the decision.
Well he needs some new consultants. Reports are that the phone lines to Notre Dame have been swamped and that they have all been against this decision. Fr. Jenkins needs to realize why people are upset about this. They would never have invited a speaker who had racist ideas. So why is choosing someone who supports murdering the innocent acceptable. Those who understand the evil of abortion instantly see why this selection was wrong. This has been a President who has not given a damn about the Catholic community and has repeatedly slapped our faces. His executive orders are bad enough. But he has also gone after the conscience laws and recently nominated a Catholic for HHS who can not even receive Communion along with plenty of other pro-abortion Catholics including his Vice President. He has provided zero olive branches other than rhetorical flourish about respecting opinions and just plows ahead with the culture of death. His very first judicial pick is of course pro-abortion.
Plus the whole idea of doing this to start a conversation does nothing. Fr. Jenkins should be much more concerned that the faith is taught at Notre Dame so that in the future uninformed Catholics will not put men like this into office. No doubt thought there are plenty at students and professors at Notre Dame who right now seem to have a better grasp about this then he does.
Instead how about a prayer rally to pray for the conversion of the President? We will engage the culture of death when we live our faiths and preach the Gospel. Our lives and actions need to be of one accord with the will of Christ. Choosing President Obama, no matter how personable he is, divides the truth of the message that abortion and harvesting embryos is always intrinsically evil – even if you are the first African-American President.
I am with Thomas at American Papist who is pessimistic that the President will be uninvited. Though would love to be surprised and will in the meantime be praying for Fr. Jenkins to do what is right.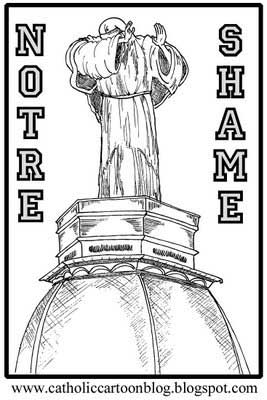 Comos-Liturgy-Sex has similar thoughts about this.