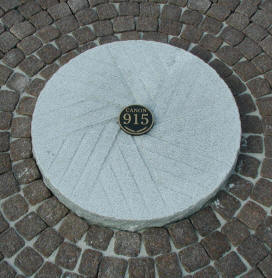 Romney, WV 8 Jan 2008) A time
capsule was placed under a bronze medallion bearing the inscription
CANON 915, at the center of a Millstone which is part of a Memorial
to the Unborn at Our Lady of Grace Catholic Church in Romney, West
Virginia.
The time capsule was sealed with the bronze medallion on January 7th,
2008, the Feast of Saint Raymond of Pennafort, Patron of Canon Lawyers.
The capsule contains Church Documents, the Code of Canon Law, Bishops
statements, various articles and other items connected to contemporary
news regarding Canon 915.
The marker and capsule are especially meant to bring attention to the
present scandal by which some of the faithful may be caused to falter
in their belief in the Real Presence of Jesus Christ in the Most
Blessed Sacrament of the Altar. This stumbling block comes
at a time when surveys suggest many Catholics do not
realize: The most August sacrament is the Most
Holy Eucharist in which Christ the Lord Himself is contained, offered,
and received and by which the Church continually lives and grows
[Can. 897]
In particular, this disbelief is reinforced and deepened when Catholic
politicians who publicly support the grave sin of abortion or
euthanasia are allowed to receive Holy Communion, despite their gross
disregard for Catholic teaching. According to (then) Cardinal
Ratzinger, their formal cooperation becomes manifest – understood, in
the case of a Catholic politician, as his consistently campaigning and
voting for permissive abortion and euthanasia laws [Memo to U.S.
Bishops, 2004]
Some of the faithful in witnessing manifest grave sinners receiving
Holy Communion are confronted with the temptation to question; 1. the
gravity of the abomination of abortion, and 2. the Holiness and
Presence of Our Lord in the Most Blessed Sacrament of the
Altar. They may even fall into to thinking; If these
politicians dont have to listen to Church teaching and can still
receive Holy Communion, why cant I?
…Fr. Kuchinsky noted: It is shameful that many of those
who are entrusted with the custody of the Mystery of Faith would
permit people so obviously tied up with such a demonic project as the
systematic destruction of the unborn to approach the sanctuary to
receive the Bread of Life. This scandalous situation is a
grievous one and greatly offensive to the faithful who have any measure
of piety for the Holy Eucharist. Yes, we pray for the lost
souls who enable the heinous crime of abortion. But, I also
pray that one day those who are uncomfortable enforcing Church law in
this the most important of issues will also understand the great
sorrow, scandal and confusion they have caused for so many of the
faithful by their failure to act and rally the other ministers of Holy
Communion to defend the Holy of Holies from sacrilege.
Archbishop Burke last year wrote an extensive article on The Discipline Regarding the Denial of Holy
Communion to Those Obstinately Persevering in Manifest Grave Sin