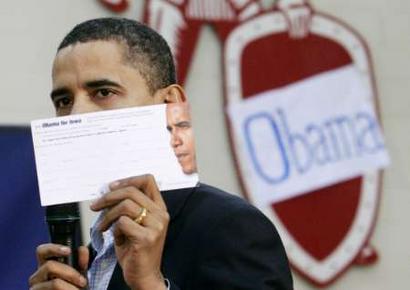 I wonder how in the world anybody at a Catholic High School would think it would be a good idea to rent out their gymnasium for a Sen. Obama campaign stop. But Newman Catholic High School in Mason City, Iowa must have thought so. Here is a senator as pro-abortion as they come who as a state senator did what he could to block a Illinois state version of the born alive infants act. He voted to block the partial birth abortion ban and is in favor of embryonic stem-cell research. He is also in favor of homosexual marriage. So you have a Senator in favor of not only abortion but infanticide once the child is born and yet he is allowed to boost his campaign at a Catholic High School.
Though I am also not in favor of any candidates at any level of office speaking either in Catholic churches or Catholic schools.
As a side note I do wonder what the Obama banner covers up on the knight's shield and especially wonder if it might be a cross?