I recently had a parody post with suggestions for a Planned Parenthood motto competition. I think though that Planned Parenthood has accidentally outdone me in parody of them. Dawn Eden has once again done the web footwork and found a selection of "health communications materials" from around the world.
Yes the following materials are real.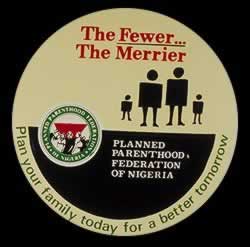 This one was from Planned Parenthood Federation of Nigeria. Wouldn't Margaret Sanger be proud of this modern effort since she warned supporters in 1939 that they did not want "word to get out that we want to exterminate the Negro population." Children should be seen and not heard and be low in number.
Update: A commenter says I missed the obvious pun – "The Fuhrer – the Merrier." which of course is a perfect match considering that a member of her Birth Control Review was an adviser to Hitler for eugenics polices. When Hitler needed to outsource for evil he knew just where to go.
Update: Ryan from Catholic Audio contributed this: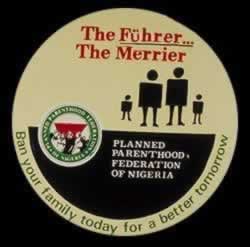 Back to the real ones.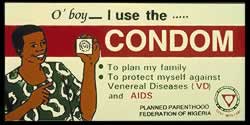 This is another Nigerian ad. Though maybe Planned Parenthood is just doing their part to reduce Nigerian 419 Scams by eliminating future Nigerian numbers. The odd thing about the ad is that if you are planning your family exactly why do you need protection against STDs? Or is to to plan families while at the same time having one or both member of the couple be unfaithful. That is one way to plan a family, or really to lose your family.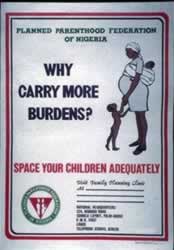 Once again for those "human weeds" the Nigerians.
"How far along are you with your burden" or "Have you named your burden yet" are not questions you normally hear asked of women who are pregnant. "Do you know the sex of your burden" just doesn't have the right ring to it. This though is exactly how Planned Parenthood and the Culture of Death sees children in the first place. They are burdens that rob you of your freedom and reduce your available capital. They are alright if you want to have one at the specific time you want to have one just as long as you don't have too many of them. Planned parenthood doesn't really want you to space your children, they want you to deep space your children.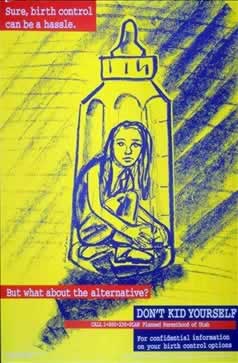 This one is actually from Planned Parenthood of Utah.
Don't "Kid" yourself has to be the most ironic Banned Parenthood title ever. Though with the largest abortion provider it probably is an intentional pun. Once again this poster shows Planned Parenthood's true stripes. Children change your life for the worst is the constant drumbeat of their advertisements. They are just plain inconvenient and should be avoided at all cost. If you want a family get a dog.
Dawn Eden also has several other examples.