For the last several years Planned Parenthood has been selling their "Choice on Earth" Holiday cards and the ones to the left are this years products. This is one occasion where I am totally fine with them using holiday cards vice Christmas cards.
The images used on their cards once again give absolutely no indication of the reality of "choice". Two images are of a mother with a child, yet Planned Parenthood offers zero services for those who want to keep their child.
Mark Steyn wrote quite accurately recently "What's the "pro-choice" line? "Every child should be wanted"? Not anymore. The progressive position has subtly evolved: Every child should be unwanted." But in some ways for PP every child is a wanted child, at least wanted by their abortionists so that they might get their bounty. But this view towards families is not just a recent development, but one with a steady message since at least the seventies. Anybody with a large family can attest to the questions they get about them being "all theirs" and the glances turned their way for making a societal faux pas. Though I once had the same attitude in my enlightened liberal days.
Considering the recent news of environmental activists saying having a child is selfish and damaging to the environment and the recent books as Mark Steyn notes such as ""Better Never to Have Been: The Harm of Coming into Existence." Planned Parenthood and radical environmentalist are natural allies except the part about the pill damaging the ecosystem with hormones. But Planned Parenthood and radical environmentalist have always had their convenient blind spots when it suits their purposes.
The card with the doves though is obviously the most annoying. Whether the dove is seen as a symbol for the Holy Spirit or as a symbol for peace it is still inappropriate. Blessed Mother Teresa said "I feel that the greatest destroyer of peace today is abortion"
But I guess the reality of babies ripped apart and removed by suction is not the best image even for a "holiday card." Even contraception doesn't lend itself to the comfy holiday image they are trying to portray. A tree decked out with condoms and pill packages just doesn't hit it out of the park.
Though the question is exactly what holiday are these cards for in the first place? Christmas with the celebration of the birth of our savior is obviously not it. They see a pregnant young mother as a target and not something to rejoice in. The miracle related during Hanukkah with the traditional Jews defeating secularist Jews when Judaism had been outlawed by Antiochus IV Epiphanes does not really fit into a holiday they would be happy about. The made-up of holiday of Kwanzaa doesn't fit the bill considering the historic roots of Planned Parenthood and their view on blacks that extends to the present day with a concentration of their clinics being in poorer black neighborhoods. Well how about the secular holiday of Christmas where the overriding message is "Family is important." Somehow abortion and contraception is not really family friendly. If only they would start making those dime-a-dozen holiday TV movies with the message "Preventing family is important" then PP would have a match.
In years past I have responded with Planned Parenthood cards of my own since I am always willing to help get out the real message of Planned Barrenhood.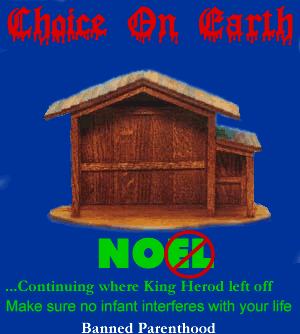 2003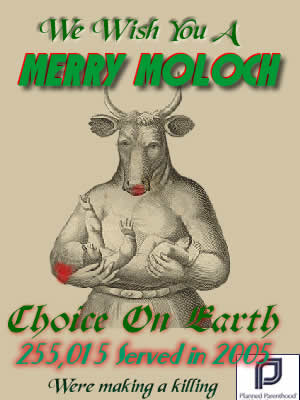 2005
So I guess I will continue this bi-annual holiday tradition.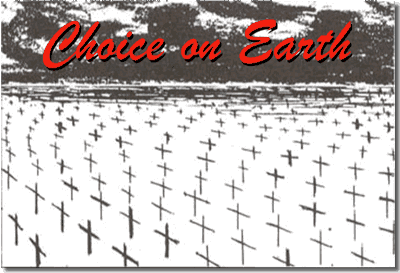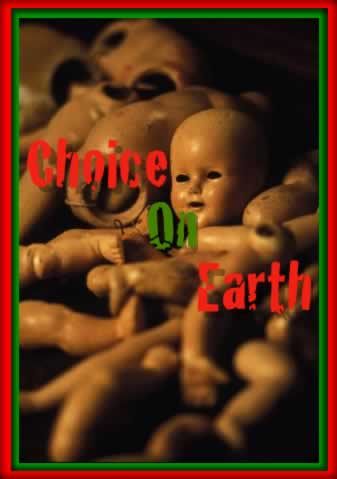 Dawn Eden orignally sent me a link to PP's latest message.
Planned Parenthood supporters, as I reflect upon the past year and consider the next, I can't help but feel a sense of good will. Good will toward the women, men, and families that we serve. Good will toward you, my Planned Parenthood family. And good, determined will to accomplish the work that lies ahead in the new year.
Well I agree that they have work that lies ahead – "lies ahead" is pretty much a forecast of their business model.