Pope calls violence "incompatible with the nature of God"
And the New York Times demands an apology.
Sheesh. [The Lady in the Pew]
Here's a clue: stop flying airplanes into buildings, stop shooting nuns in the back, stop setting fires everytime your itty bitty wittle feewings are hurt over the slightest of slights — and we'll stop with the "demonising", m'kay? [Relapsed Catholic]
Isn't it funny how easily the NY Times can find fault with, criticizise and otherwise instruct Pope Benedict XVI. Look at how fearless they are! They're scolding the pope!
But then, it's always easier to shake a finger at someone you know won't come after you for it. [The Anchoress]
Christopher Blosser has been doing in depth coverage and analysis of the Pope's speech.
Michelle Malkin provides coverage of the Italian nun shot in the back.
Dale Price goes all Byzantine on the BBC.
In the "That will show you for abandoning the religion of peace segment"
Somali Christian sources report Ali Mustaf Maka'il, a 22-year-old college student and cloth merchant who converted from Islam to Christianity 11 months ago, was shot and killed in the Manabolyo quarter of Mogadishu. [Via The World…IMHO]
In other news. When this drawing from a Catholic schoolgirl appeared in a Danish newspaper.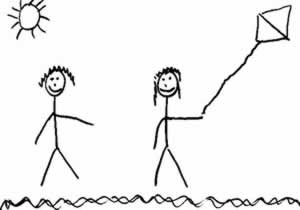 Muslims were shocked by the scantily clad stick figures and especially the stickgirl not wearing a burka.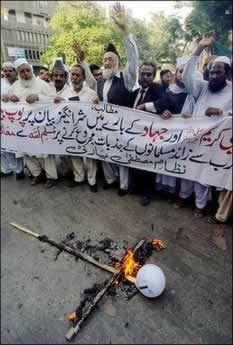 As a result stick figures around the world have been burned in retaliation. We must stick up for the stick figures who are being burned at the stick.