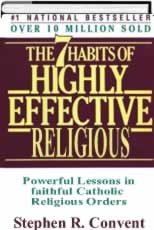 Before you can adopt one of the the seven habits, you'll need to accomplish a "paradigm shift"–a change in perception and interpretation of magisterial fidelity. You need to move away from polyester pantsuits with sensible shoes and a heterodox faith. Stephen R. Convent walks you through how it is that it is obedience to Christ and his Church and not the latest in social engineering or the latest fad created by university professors that make a religious order highly effective. That it is not labyrinths but liturgy, prayer not progressive's talking points, dying to Christ not dialogue the point of which is to evangelize the Church with the culture instead of the other way around. The 7 habits of Highly Effective Religious takes you through seven case studies of growing religious orders in this time when vocations are suppose to be in decline.
The authors contention is not that the habits in and of themselves that make a religious order grow and to become effective, but the denial of the mind set where progress means dropping anything traditional and embracing anything new. This growing trend of younger people embracing traditional orders and faithfulness to the magisterial have been labeled "young fogeys' by Fr. Andrew Greeley, but the young fogeys are revitalizing religious orders where less faithful orders are more likely to attract flies than postulants. A effective religious order is not one that is measured by success as termed by the modern world but one that follows Mother Teresa's "I do not pray for success, I ask for faithfulness"

Franciscan Friars of the Renewal a new order founded by Fr. Benedict Groeschel and seven other Capuchin friars started in 1987 has been growing by leaps and bounds. This order is dedicated first to the materially poor, but also to the spiritually poor through evangelization. Where social justice is fully embraced and lived out and is not truncated by ignoring abortion. The retro habits and monks with beards makes this one of the seven effective habits.

Dominican Sisters of Mary, Mother of the Eucharist On August 22nd, 1997 Feast of the Queenship of Mary, the first new candidates were received into the community. Currently the community has 40 young women in formation. These young women come from all over the United States. The postulants and novices study theology, philosophy, scripture, sacred music, Dominican spirituality, and Church history. Faithfulness to Church teaching and a cool habit makes them another one of the seven effective habits of highly effective religious orders.
The Poor Clares of Perpetual Adoration. This group is just one of the new foundations from Mother Angelica's order which is busting at the seams.
Carmelite Sisters of the Most Sacred Heart of Los Angeles With a foundation of contemplative prayer fuel their dedication to healthcare and education. To view a group photo of this growing order would probably take an aerial shot to include them all.
The Sisters of Life is a contemplative/ active religious community of women founded in 1991 by John Cardinal O'Connor for the protection and enhancement of the sacredness of every human life. Currently occupying four convents and still growing.
Sister Servants of the Eternal Word are a new order that follows the Rule of St. Francis of Assisi with St. Dominic and St. Francis as their patrons. This order operates a retreat house that has not retreated from the Catholic faith.
Dominican Sisters of Saint Cecilia Congregation (also known as the Nashville Dominicans). This contemplative community does not have the progressive mission statement found for some Dominican orders but dedicates themselves to do such radical things such as "Love the Church and seek to serve her in fidelity" and "Foster a reverence for the priesthood and the Church's Magisterium"
These seven case studies for "The 7 habits of Highly Effective Religious" are not an all inclusive list of faithful and growing orders but a cross-section of religious orders that are growing while some of their contemporaries haven't seen a postulant since the seventies. While they have many different habits they are all grounded in faithfulness s to Christ and his Church.
The book also contains an appendix of the 7 habits of highly ineffective religious orders and what not to wear.
The Benedictine Sisters of Erie. These sisters specialize in heterodox creation-centered spirituality and whose charism is closely related to the Democratic Party. You might know there most famous member Sister Joan Chittister, OSB. It appears that there only consistent religious garb is gray hair and floppy name tags.
This appendix will be greatly useful for historians as these orders become historical footnotes.
So order the "The 7 habits of Highly Effective Religious" now and see where the Church is growing and slowing. If you ask these seven orders about a vocation problem they will tell you that sure there is a vocation problem. "We don't have enough room for all these postulants!"