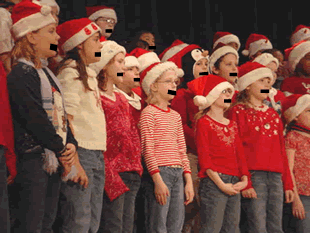 PORTLAND, OR (Roto Reuters) A new children's choir groups is getting lots of attention and bookings during the winter season. The Silent Night Seasonal Semi-Singers sidestep the problems inherent in a multi-cultural society and what has been called the "Christmas wars." Secularists are upset with the lyrics of explicitly Christian carols and Christians become upset when these carols are left out. To solve this problem Ms. Giesel of the the Glencoe school elemenatary choir decided instead of hymns to do hums. Students are gagged while performing to ensure no actual Christian carols are ever sung. The instrumental portions of traditional Christmas carols are slightly altered to ensure no one in the audience might attempt to sing along. Silent Night is sung just as intended – totally silent. To ensure fairness winter holiday songs are also hummed.
Parents at first were hesitant to endorse the idea until they found out how enthusiastic their kids were. Now even students with no musical talent can join the choir and hum along. The provided humnal makes it very easy for kids to learn songs since they do not have to memorize any lyrics. When the audience is invited to join in and hum along nobody ever feels bad or put down since they don't know the words or only know the first refrain.
The idea is catching on in neighborhoods where kids bundle up and go around the neighborhood from door to door humming or what some have called humoling. People are thrilled to find hummers at their door humming along to slightly familiar tunes invoking the winter season. So if you see a group of humolers approaching your door this season then open your door to the joys of holiday humoling.
* Credit goes to a reader who sent me a link to a story about Silent Night," being changed to "Cold in the Night".