Tue Oct 18,11:38 AM ET: The Archbishop of Canterbury Rowan Williams told worshippers to compare praying to sunbathing, except that it is soaking in the light of God.
Williams, the spiritual leader of the 77-million-strong worldwide Anglican Communion, said on a BBC radio programme that many people had trouble praying and thought it was a matter of "generally getting your act together".
He said worshippers struggling to pray would be better off comparing praying to lying on a beach.
They should stop trying too hard and just be where the light can reach them — in this case the light of God.
Williams admitted he was not a keen sunbather but there was something about doing it that revealed more about the experience of prayer than a slew of religious jargon. [Via The Waffling Anglican]
Personally I prefer Son bathing in front of the Blessed Sacrament. But this is a fairly good metaphor. Unfortunately we let the cares of the world and material things act like SPF-1000 when it comes to absorption of grace. Too often we amply apply Son-block. SPF is the Sacramental Performance Factor and the lower the rating the better. A low SPF means that we are more docile to the Holy Spirit and more amendable to grace. A high SPF is like rocky soil. SPF is a spiritual albedo and is a measure of the grace reflectivity of our soul, though in this case the more we absorb grace the more we reflect it to others.
Continuing with the metaphor real sun bathers have the problem of an even tan. The same thing goes in the spiritual life. There are dark abscesses that we don't want to expose to the light. Faults are our spiritual tan lines. It is only when give all of ourselves to God and to allow him to work on us that we progress. With sunbathing you must turnover for an even tan, and in Son-bathing you must turnover a new leaf. Now one major difference with this metaphor is that the lack of exposure to the Son could result in burning. Though we can still have time to go to the spiritual tanning booth – the confessional.
Now as for me the only tan I am likely to have at the beach is something from Tan Books.
I was wondering if some type of Songlasses might be available and in this case unfortunately the answer is yes.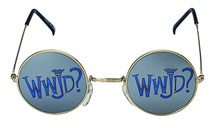 This is much better.

Found via Relapsed Catholic today.