A reader alerted me to the National Organization of Women (NOW) Mother's Day gift ideas. Under jewelry they suggested this product.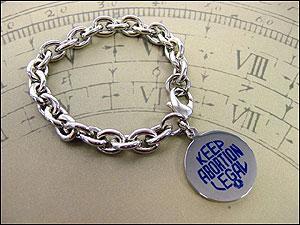 Whoever selected this item has a severe irony impairment. Can you even imagine somebody giving this to their mother? We are certainly glad that we were wanted and not born at an inconvenient time in your career path mom! Maybe this is the perfect gift from children who don't want any younger siblings to compete against.
Now of course what is a charm bracelet without additional charms you can put on it. How about:

Charms with dates of when a child was aborted.
Precious feet

Anti-Mom charm

To signify the increased risk drug and alcohol abuse for those who are post-abortive.

To signify increased risk for breast cancer and psychological problems.

To represent symptoms of bouts of crying, depression, intense grief/sadness, and emotional numbness
This post is definitely in jest of NOW's just plain sick Mother's Day ideas, but post-abortion trauma itself is no laughing matter. After Abortion links to good resources such as Rachel's Vineyard for those men and women who are suffering from post-abortion trauma.