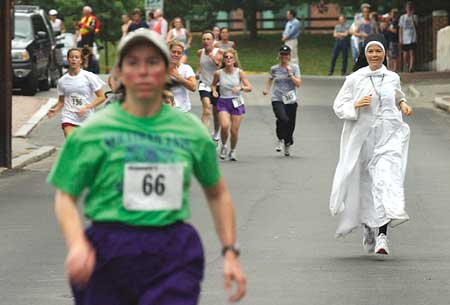 PORTSMOUTH – It's not every day you see a nun run. But Sister Maximillian makes a habit of it.
Residents of Rochester see the Catholic nun running in full habit and veil daily with children from the St. Charles School, where the sister helps minister and describes as a foster home "for children in crisis."
On Saturday morning, the 37-year-old nun is easily recognizable among a crowd of runners who've turned out for 19th annual Children's Museum 5K road race in Portsmouth. She's the one in the robin's egg blue and white habit with veil – the blue matching perfectly with her eyes. She also wears a long strand of rosary beads with a crucifix around her neck – and a pair of running shoes.
"It's a privilege to wear it, really," says the sister of her vestments. "You wear it and you say so much, without saying anything."
[Full Story]
This is so cool!