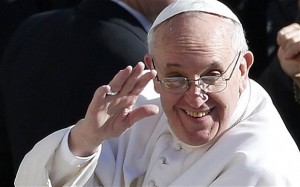 This version of The Weekly Francis covers material released in the last week from 3 March 2017 to 19 April 2017.
Note: There are several General Audiences that have not yet been translated into English.
The Weekly Francis is a compilation of the Holy Father's writings, speeches, etc which I also post at Jimmy Akin's blog.
Angelus
Daily Homilies (fervorinos)
General Audiences
Homilies
Letters
Messages
Prayers
Speeches
Papal Tweets
Papal Instagram