Some years ago I came across a story about Trappist Caskets where the monks of New Melleray Abbey in Iowa build hand-crafter caskets. This appealed to me in several ways. That they are hand-crafted, affordable, and that the effort supports Trappist monks. So I had told my wife this is what I wanted to buried in.
When we were staying at the hospice they gave us various materials including for funeral planning. Up to that point I really had not given any thought to this. Really I didn't want to think about this at all. Still I realized that I had to deal with this. So I remembered the story about Trappist Caskets and called them to order one. I felt pretty creepy calling them about this since my wife was still alive at the time. When my wife died two days later, they were able to ship it to the funeral home in two days.
At her funeral Mass when I saw this casket I was pleased about the quality of the woodwork. Talk about mixed-feelings though. It is hard to appreciate the craftsmanship of something holding your wife's body.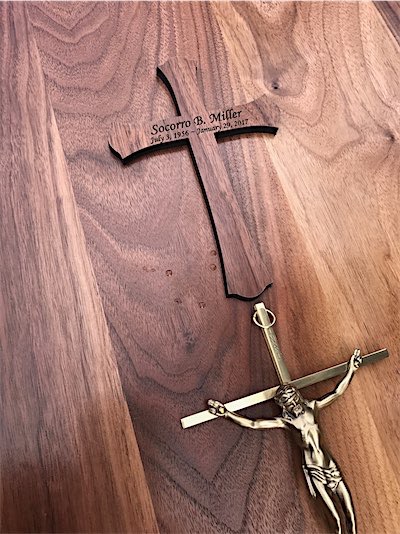 Still I did appreciate their customer service and how easy the process was. So I plan on setting up an ordering of one for myself. Just thinking about this is just so Lenten – Memento mori.
I was thinking about all this when I saw this recent post at Crux Loving Memory: Handcrafted Caskets Memorialize with Meaning. This was actually labeled as SPONSORED CONTENT so is a case of an advertisement disguised as an article. Still it does give some idea about them.