On Jan 29th my wife, Socorro Miller, passed away due to complications from cancer.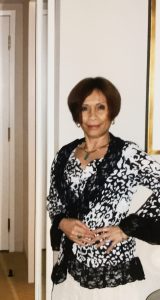 I can hardly write how devastated I am from losing her. After over 36 years of marriage I am certainly struggling day-to-day. I thank God for my faith and that she was the instrumental cause God used in my conversion. She was a women of prayer day in and day out despite all those years when I held her faith in little regard. In my then atheistic pride her faith was something I had to put up with. To the end she never wavered in her faith or her prayers. In those final days when she could hardly communicate – she was still making the sign of the cross.
Towards the end she was taken into a hospice to help to manage the pain. Our two children and myself basically lived in the same room at the hospice with her. This was extremely difficult for us to watch her rapid decline, but still we had to be there for her – who had always been there for us. I have often heard how compassion means to "suffer with" and this lesson was drilled into us.
By whatever confluence of events my children and I were awake and in conversation when she passed not long after 3:00 AM on a Sunday.
She was first diagnosed a little over three years ago. Not long after that we made a visit to the Philippines to see her family.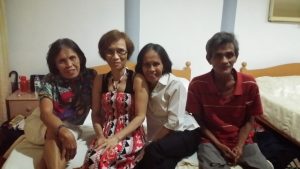 Here she us with her two surviving sisters Rosario and Digna along with her brother Rudy – who died not long after this.
For myself I have some head-knowledge about the faith. An intellectual assent to the Church's teachings. Still this has actualized some of that into a more lived experience. The Glorious Mysteries now have more depth for me. The Communion of Saints is becoming more real to me. I know she is praying for me as I pray for her.
I was super thankful that at her funeral Mass that the priest preached the faith of the Church. That our prayers for her must continue on. In the turmoil in the aftermath of this, I pray that I will live a life worthy of her.
So dear readers I ask that you pray for her and for my family.