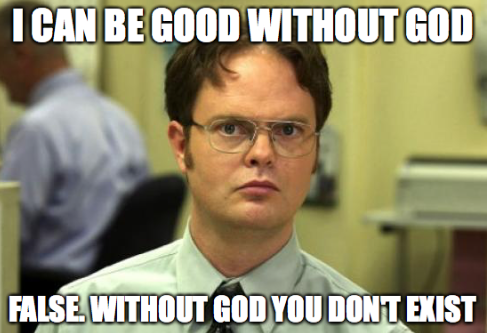 I created this meme as a nod to G.K. Chesterton's "If there were no God, there would be no atheists." Where All Roads Lead – 1930
We only have existence from the one who is pure act and his essence is existence.
Still when an atheist says that he can be good without God, we can agree that they can indeed be good without a belief in God. No doubt there are many examples of atheists who are indeed morally superior than some with faith in God. Besides the natural law and our conscience is not just something doled out to believers.
Although a problem quick comes about in defining what is good without lapsing into moral relativism. Trying to define an intrinsic meaning to what is good without citing cultural norms or avenues of group dynamics to reduce tensions is not possible. They all come down to some form of enlightened self-interest. Some of these methods do lead to what is good, but don't ultimately answer what is good.
When Jesus was trying to elicit an act of faith from The Rich Young Man he asked him "Why do you call me good?" (Mk 10:18). When it comes to atheists we can ask "What is good?"
When I was an atheist I knew I wanted to be good. Even if my understanding of what is good was nebulous. What I did know was that mostly I wasn't good.
This failure to be good was partly since I could not define what was good. Often something I later understood to be an evil (a privation of the good) I understood as something good or at least neutral. Cultural cues affirmed me in this understanding. It is difficult to repent of moral fault that the culture affirms, especially as you feel a guilt over it. Being raised in a totally non-religious atmosphere, probably an anti-religious one, I could not understand where this guilt came from. Certainly not the idea that I might have a working conscience. As an atheist I could not possibly sin, but yet my sins were convicting me. I think of Chesterton's quip in his autobiography in why he became Catholic "To get rid of my sins".
"No man knows how bad he is till he has tried very hard to be good." – C.S. Lewis (Mere Christianity)
Still it is not like coming to faith surmounts all these problems. The diagnosis is not the same thing as the cure. The tension is that as an atheist I felt mostly good while not really being good, while as a Catholic I more clearly see my myriad faults and feel gratitude over that. Yet at the same time can appreciate those atheists striving for the good, even if the good they seek is not properly apprehended. We are all on a journey of grace.