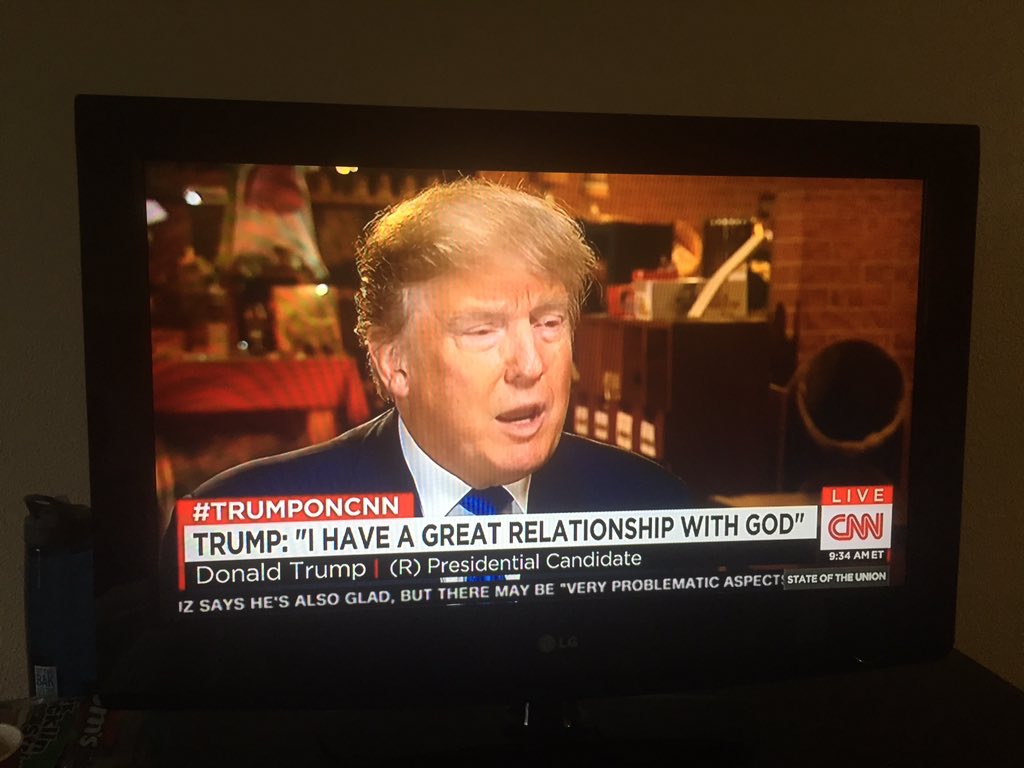 Trump is going to make God great again! Take that Christopher Hitchens..
I am sure most people would balk at Donald Trumps "great" relationship in God, but in the service of charity I will try to explore the topic.
So how exactly did Donald Trump develop his great relationship with God? Well few know this but he meets regularly with Joel Olsteen for spiritual direction. Trump maintains both his health and his wealth so this is obvious Olsteenian proof of Trumps great relationship with God.
Trump respects the sanctity of marriage so much he employed this great institution three times. He possibly could respect it even more in the future. In fact while married to Ivana he started a romance with the women who was to become his "second" wife among the pews of a Manhattan church. This also shows that Trump does not find church boring and seeks to reach out. Trump is really a model Christian as he has "married" three models.
Some have doubts about Trump's humility, but he lists the Bible in front of his own book "The Art of The Deal," as his favorite book. In his amazing humility today he said "the Bible blows it away". When first asked about his favorite verse and why he replied.
"I wouldn't want to get into it because to me that's very personal. You know when I talk about the Bible it's very personal.I don't want to get into it."
This shows that Trump has a personal relationship with this favorite scripture verse. Although a month later he did manage to come up with a vague reference regarding envy in Proverbs and his aids eventually managed to find one that fits. So The Donald is willing in humility to give us his personal favorite scripture verse despite how personal it was to him.
Proverbs 24:1-2: "Be not thou envious against evil men, neither desire to be with them. For their heart studieth destruction, and their lips talk of mischief."
Now at first glance this might seem quite an odd choice as a personal favorite. This just proves that Donald Trump has studied the scriptures much more than we have and us willing to go obscure instead of pandering with perhaps John 3:15. In fact today he was at ease referring to "Two Corinthians" instead of "Second Corinthians" showing his fresh look at scriptural references.
Trump is also not afraid to show that he is a renaissance man and talk about art, movies, and scripture comparisons. Here is compares the bible to the Mona Lisa and a movie.
"it doesn't look as great at the beginning and by the time they see it many, may times they can't take their eyes off it" — and to watching a "great, incredible movie."
Another area where it seems Trumps actions are at odds with his great relationship with God is that the Trump Taj Mahal could make history early next year by opening the first strip club inside an Atlantic City casino. He hopes that it would "take off" showing his adeptness with both political language and strip clubs. I've heard rumor though that he plans to tithe ten percent of the stripper's tips to charity. Yeah it will all be mostly dollar bills, but so are the collections in many churches.
Another proof is Trump's conversion to the pro-life cause. This is an amazing story regarding how he went from being fervently pro-abortion to pro-life. Now he has never mentioned what changed his mind, but it must be a great story and as good as Mitt Romney's or Charlie Crist's – oh wait scratch Charlie Crist. I find it amazing how running for President as Republican causes such deep conversions and reflection on previous culture of death views. On same-sex marriage he said "The Supreme Court ruled on it" and previously he had attended a same-sex marriage. This bodes really well for appointments to the Supreme Court just as long as you are not a social conservative in any way. Still he has no definitive comment on "same-sex marriage" proving once again he is so humble as to not give an opinion on an issue of the day.
Trump is also a great ecumenist and is willing to reach out and attack the faith of other Presidential Candidates such as Ben Carson and Ted Cruz "not too many evangelicals come out of Cuba." No doubt as a Presbyterian he sees the losers competing against him as predestined to loose. Not to mention inter-faith dialogue – or as The Donald calls it "in your face" dialogue like with Muslims. Well actually he has never called it by that term, but I am sure he would approve.
Today Trump said "We're going to protect Christianity". Hopefully it is from Donald Trump. Now who would be a good intercessor to pray for Donald Trump? I mean besides St. Jerome.
References and quips: