So who is the geekiest Catholic Apologist? No doubt it is Catholic Answer's Jimmy Akin who has just released a new blog Let's Watch Doctor Who! subtitled "Reviewing every Doctor Who TV story … from the beginning!"
Now I just love cheesy SF and this creates a good excuse to watch the series from the start. Besides I have exhausted all the episodes of Mystery Science Theater 3000 available for streaming on Netflix. Fortunately most of the episodes of Dr. Who are available for streaming on Netflix, except part of the first season. Although I ordered the DVDs of it and now have it for viewing.
In one of those strange coincidences I happened to see this image for the first time today.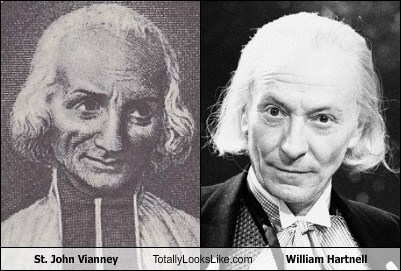 William Hartnell was the first Dr. Who and of course St. John Vianney's feast day was yesterday.