This looks pretty cool.
The Ignatius Pew Missal is an annual subscription-based worship aid intended for Roman Catholic parishes. Available to pre-order now for a special introductory price of $3.50 when you order 50+ missals!

Its purpose is simple: to provide worshipers with a liturgical resource that is consistent with the directives of the Church and accessible to the average parishioner, especially in regards to music.

This is done in two ways: by using simple plainsong melodies for the Entrance and Communion antiphons, so that a cantor, choir, and even a congregation can easily sing them, and by selecting hymns and songs which, combined, provide a repertoire of sacred songs that is fitting for the Holy Sacrifice of the Mass, yet accessible for the average parish.

Visit www.PewMissal.com to see samples and learn more about the Ignatius Pew Missal.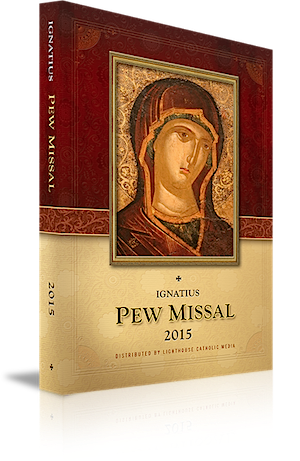 Still there is something wrong with the cover art. Don't they know that for parish missal's that the cover art is suppose to be abstract and barely recognizable as representing religious themes. They really need to take the Draw Me! course.