Dale Price posts:
To show you what the administration's priorities really are, an employer that does not offer health insurance under Obamacare will pay a $2000 annual penalty for each worker.

But the penalty for failing to offer the pill is $100 per day per employee.

So, it's $36,500 per year if you don't cover an employee's IUDs, but only $2000 if you don't offer her anything *at all.*

Yeah, tell me how it's all about taking care of the uninsured.
Cardinal Dolan so eloquently stated that the President had given us a year to figure out how to violate our consciences. Well that year is over as of today.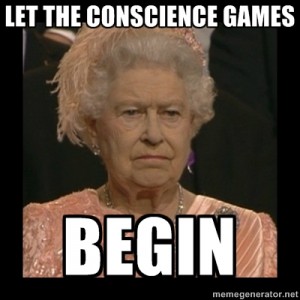 The problem with dystopian future fiction is it is not as fun as when you are living in a dystopian present.  The government forcing people to violate their consciences by the use of a hefty fine might have made good reading, but it sucks a an actuality.
"A citizen can hardly distinguish between a tax and a fine, except that the fine is generally much lighter." G. K. Chesterton.
Well President Obama made this a distinction without a difference where a hefty fine is called a tax as per the Supreme Court.
In Cardinal Dolan's post today he ended by saying:
Over the course of the coming year, the effort to protect religious liberty and the freedom of conscience will continue.  In the end, this is not about bishops, it is not about Catholics, it is not about contraceptives.  It is about the ideals our nation was founded upon: Congress shall make no law respecting an establishment of religion, or prohibiting the free exercise thereof.  You can't do much better than the First Amendment to the Constitution.  The founding fathers got it right.  The HHS mandate gets it wrong.  We are fighting to correct that wrong, in order to make sure that religious freedom continues for the generations to come after us.