There has been a lot of ink and pixels spilt over the topic of the CDF's investigation into the LCWR. The large brunt of the media coverage has used the "War on women" narrative as if the fact that the only thing these religious sisters and nuns are guilty of is the crime of being a women and daring to help the poor.
If this narrative is true then why is the Vatican investigating the LCWR and not the parallel group the Council of Major Superiors of Women Religious (CMSWR)? After all they are women also and help the poor.
Why does the Vatican investigate women religious who look like this:
or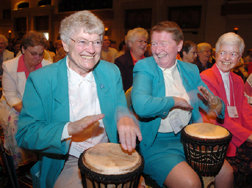 And not ones that look like this: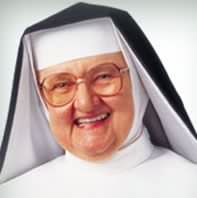 or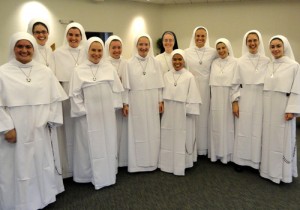 Well the answer might surprise you. It has nothing to do with the fact that orthodox religious women generally wear habit and ones with more dissident tendencies don't. Nope, no correlation at all.
The real reason the Vatican is "cracking down" on the LCWR and some women theologians in the United States is because they are noticeable as women. Everyone knows the patriarchal all-male hierarchy is totally misogynistic. The thing is that when women religious wear full habits they become invisible to the Vatican and the CDF. Their women parts and hair are totally hidden in their habits and the CDF forgets they are women and thus leave them alone. The LCWR and all the so brave dissident women theologians are instantly viewed obviously as women without the covering habits.
Now these habit-less religious women did try some camouflage by wearing pantsuits, but this did not go far enough to fool the CDF. This did not work even with the attempts at mannish hairstyles.
Here is Sister Simone Campbell making the classic mistake in not hiding herself in a habit and thus opening herself up to crackdowns from CDF troops.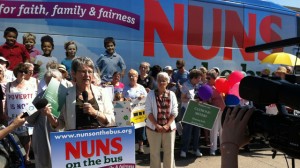 In fact I expect the CDF paratroopers to descend from the skies and put a stop to this bus tour any day now. After all the signs should say "Religious Sisters on a Bus" and not "Nuns on the Bus." There should certainly be fines for those who continue to confuse the terms nuns and sisters.
You just got to love the priorities of these women religious:
Federal money for abortion – No need to organize a bus tour.
Catholics being forced out of adoption and helping victims of human trafficking – Nope no bus tour needed.
Attack on our religious freedom and forced support of intrinsic evils – No need for a bus tour.
A Republican budget that is going nowhere – Organize a tour immediately.