Msgr. Charles Pope points out some interesting data from CARA.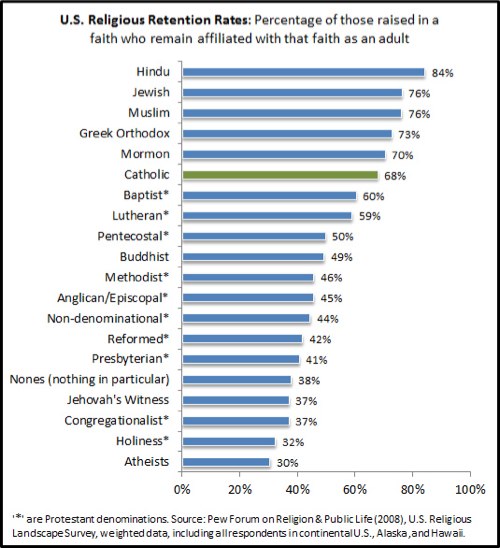 You often hear that ex-Catholics would make up one of the largest denominations. Apparently the category of ex-atheist's make up a larger percentage. This data relates to people raised in an atheist household, not the retention rate of atheists not raised in such households.
But take a special look at that number at the bottom of the pile, yes the very bottom. Atheists "retain" only thirty percent of their "flock." To quote the CARA blog: And if you think it is challenging to be a Catholic parent, try being an Atheist parent! Some 70% of Americans raised to believe God does not exist end up being a member of a religion as an adult (about one in five former Atheists drift off to become an open-minded agnostic or None).

N.B this number reflects only those raised as Atheists. A large number of Atheists in this Country are "made" in the sense that they were raised to believe but now are Atheists. It remains to study how many of them remain atheists and for how long.
The Monsignor goes on to write why he thinks this is so and of course the comment section is full of outraged atheists. I must applaud Msgr. Pope for the amount of engagement and his many responses to atheists who mainly assert that the study must be flawed (which of course is always possible).
So what we can take from this study and act on is to obviously raise our kids as atheists so that they will later have some form of belief! Hey it worked in my case raised in an atheist household. Well probably not the best approach, but you do have to wonder if atheist parents will complain about the state of atheist catechesis and the problem of backsliding atheists straying into faith.