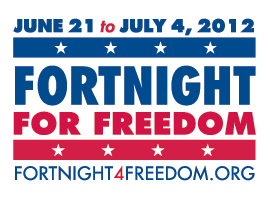 Archbishop Chaput's Homily for the Closing Mass of the Fortnight for Freedom.
Archbishop Chaput has bookended the start and end of the Fortnight for Freedom with exceptional speeches that call for the protection of religious freedom along with more importantly the call to holiness of inner conversion and repentance.
I say this for two reasons. Here's the first reason. Real freedom isn't something Caesar can give or take away. He can interfere with it; but when he does, he steals from his own legitimacy.

Here's the second reason. The purpose of religious liberty is to create the context for true freedom. Religious liberty is a foundational right. It's necessary for a good society. But it can never be sufficient for human happiness. It's not an end in itself. In the end, we defend religious liberty in order to live the deeper freedom that is discipleship in Jesus Christ. What good is religious freedom, consecrated in the law, if we don't then use that freedom to seek God with our whole mind and soul and strength?