I have received some complaints about allowing a specific atheist commenter free-reign in my comments box.  I can appreciate the concern and the annoyance.  I am rather libertarian as far as my comment boxes go in that as long as people are not especially vulgar I pretty much don't delete them.   Over the last almost ten years there have been few instances where I have deleted comments.
I have had occasional eruptions of atheist commenters over the years and really I don't pay them much attention.  It does kind of amaze me that anybody who thinks that this life is all there is is going to spend so much time in my comment section.  Why they want to dialog with insane religious believers is a bit beyond me. Though I also say this being thankful that blogging was not really around when I was an atheist, thus preventing me from leaving rather inane comments on religious blogs.  I certainly disdained religious believers for being so foolish, just not sure I would argue with people who I thought had a belief system similar to belief in Leprechauns.
Though no doubt some people really enjoy such comment box battles.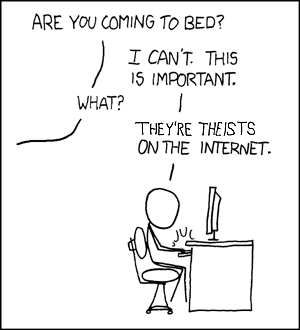 And not just atheists.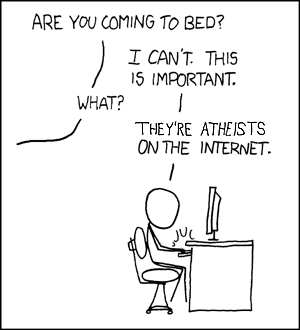 Thomas L. McDonald had an excellent post on the subject of comment box atheist dialogs in which I am pretty much in alignment.  Like him they also bore me.  Not in the "I am so superior to them" boredom, but the "been there, believed that, rejected that" boredom.  When my atheist faith was slipping I tried to renew it reading what I could find on atheism in the library. Unlike those that had their Ayn Rand phase in college, my Ayn Rand phase was in my later 30's. Though the more I read of atheist arguments to boast my beliefs, the more problematic I started to see them. They implied such a massive stupidity of religious believers that did not match what I observed of believers I respected, but could not join with. Seeing this I also started to see how my own attitudes were equally  if not more arrogant. It's nice to think of yourself as a "freethinker" or a "bright", less nice to realize the egoism of it. I had always been proud of my life-long atheism and never having believed in God even as a child.  But I started to find that I was not proud of my pride. Regardless, those years of renewed atheist reading and subsequent decade and a half of seeing the other side has left me rather bored with most atheist comments.
It does not though leave me bored with atheists.  While I don't really try to engage in comment threads that develop on my blog, I do try to engage in prayer for conversion.  I don't expect my comment engagement will convert atheists with my "brilliant" arguments even as I know the reason that underlies my faith.  I have a fondness for atheisst that comes from my long years of atheism. Thus I don't have to impute bad motives to them and I pray that they can receive the same gift of faith that even such as I received.   I do know conversions happen.  They can even happen in comment boxes as evidenced by Jennifer Fulwiler's conversion story.  That God can even bring good out of comment boxes amazes me.  I remember one early commenter on my blog "The Raving Atheist" who ran a popular atheist site and forum  which later became  the "Raving Theist" and dedicated his site "to Jesus Christ, now and forever."
For my Catholic commenters who are engaging in conversations regardless how pointless they might seem, I applaud you for your patience.  For those annoyed by the comments I hope you understand my reasons for allowing them and join me in prayer.
There are many that say "Don't feed the Troll", now I would say "Pray for the Troll" –except I am not really that fond of the world Troll as it is another word that dehumanizes people so you can ignore them. Sure fervent commenters can be quite annoying, but most of us can be quite annoying and we are called to even love our comment box enemies by willing them good.
Cartoons modified from xkcd: Duty Calls