When it comes to bigoted anti-Catholics ads this one takes the cake even for the New York Times.  If atheists published Chick Tracts this is what they would look like.  Though maybe Chick Tracts are downright ecumenical compared to this.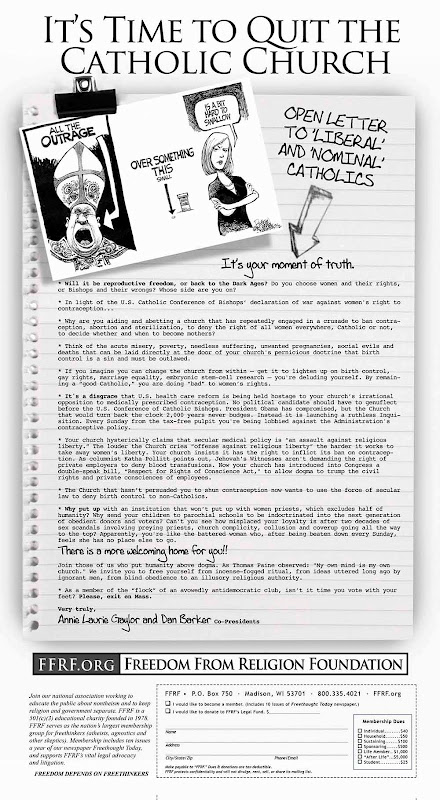 \\
Full text at the Creative Minority Report.
I find it also rather interesting in a strange way.  For one they seem to consider  liberal Catholics to be brothers-in-arms and rightly calls them dissenters.  There is some truth to this understanding as atheists have a moral worldview quite similar to dissenting Catholics.  If by their fruits will you know them how can you differentiate the fruits of dissenting Catholics from secularist atheists?  Exactly what would divide them as far as practice goes besides the obvious belief vs. unbelief in God.  When it comes to the issues of the day they are locked step in agreement.  Moral relativism with no foundation in unchanging truth embraces both camps.
Reading through this screed I really can't see where there view departs from dissenting Catholics and lines like "Why are you propping up the pillars of a tyrannical and autocratic, woman-hating, sex-perverting, antediluvian Old Boys Club?" could easily appear in the National Catholic Reporter.  Funny though how these atheists are upset about the lack of women priests when they don't even believe in God.
In some ways though this ad asks the right questions.  Why are dissenting Catholics who have such a negative view of the Church and who disagree on foundational questions remaining Catholics?  The Protestant reformation did not start out to leave the Catholic Church, but they came to understand that their ecclesiology and theology was such a departure that they were forced to leave.  As incorrect as this understanding was, it at least had a follow through in measure with their beliefs.
If you imagine you can change the church from within — get it to lighten up on birth control, gay rights, marriage equality, embryonic stem-cell research — you are deluding yourself. If you remain a "good Catholic," you are doing "bad" to women's rights. You're kidding yourself if you think the Church is ever going to add a Doctrine of Immaculate ContraCeption.
Now here is a back-handed compliment if I have ever seen one. This groups has a better understanding of the Church than dissenters do. The Church indeed is never going to change one of dogmas whether it concerns hot buttons issues or more obscure points of theology. The Church is never going to u-turn on her magisterial teachings because truth itself is unchanging. We can come to a better understanding, but not a reverse understanding.
The Amish, as Pollitt points out, don't label cars "an assault on religious liberty" and try to force everyone to drive buggies. The louder the Church cries "offense against religious liberty" the harder it works to take away women's liberty.
I guess they didn't realize how ironic their example is since the Amish are exempt from Obamacare which is all that faithful Catholics are also requesting. As usual liberals are irony-deficient in framing the debate as a forcing of beliefs while they attempt a Borg like assimilation forced at the arm of government that extends with a fist.
Now the actual question of why dissenters remain Catholics is not going to be answered here. People are quite complex and their are no one theory fits all explanations. There are complexities of culture which include tribal Catholicism along with aspects of being drawn by grace. I'm certainly glad that God didn't give up on me as a once very liberal atheist. While I might wonder why dissenters remain in the Church and don't follow their ideology into Anglican/Episcopalian channel I still pray for them to come into a fuller understanding and love of the Church that Christ gave us. They might be wrong about the Church's teaching, but they are not wrong that this indeed is the Church.