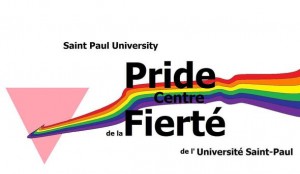 The Inaugural Saint Paul University Pride Centre Event: Queer and Christian, A Conversation with Jan Braun.

A group of students at St. Paul and SPUSA are collaborating to create the Saint Paul University Pride Centre a welcoming place for Lesbian, Gay, Bisexual, Transgender, Two Spirit, Queer, Questing and Asexual students and staff at Saint Paul University and their allies.
I bet welcoming to everybody but orthodox Catholics.  It is also hard to keep up with all the politically correct terms they throw in. First it was LQBT and each week they seem to throw in another letter of the alphabet.  Plus do the asexual students bud?
We are excited to launch our centre with a conversation with Jan Braun who has walked the balance between her faith and her sexuality as a Queen Mennonite. She is coming to share parts of her book Somewhere Else, and her experiences with us.
Anytime you see the word balance used with faith it means that the faith is actually in what ever it is being balanced with. Somebody with some level of same-sex attraction can live the faith just as anybody else can by answering the same call to holiness without a balancing act. Now did they mean "Queen Mennonite" or "Queer Mennonite"? Or is it a difference without a distinction?
Jan Braun wrote a novel called "Somewhere Else"
Jess is sixteen and aware that she is in an impossible position—being the homosexual daughter of the president of the Mennonite college. She hits the road in search of a language and the freedom to speak it. On the train to Winnipeg she is found by Freya, the Icelandic princess of her dreams. Halfsteinn, fisherman and expert in the fine art of hand-rolling cigarettes, enters Jess' life, helping her escape emotional captivity. Jess embraces pothead, videogame—playing housemates in the world away from her Mennonite being. Then, she meets Shea. Jess can barely utter the name—afraid of the word, the woman, the possibility, and her own past.
Please tell me the novel is a comedy because the description is really cracking me up.
Aren't you glad to know that Saint Paul University is one of the only two pontifical universities in North America?
Let's play "Guess the University Mission"
A. We embrace the teachings of Sacred Scripture, Sacred Tradition, and the Magisterium with a spirit of Christian humanism that relates all learning to Jesus Christ. At …, you'll grow in mind, body, and spirit through the integration of faith and reason.
B. As a Catholic institution, … is dedicated primarily to an understanding and integration of Christian faith and life. It intends to pursue this task in a spirit of ecumenical openness and with a critical awareness of the forms of Christian life already existing or now emerging within modern cultures and societies.
I know this is a hard one – but jus try to guess which Mission statement is for the University of St Paul located in Ottawa, Ca. Well they do both have the word "integration" in them.