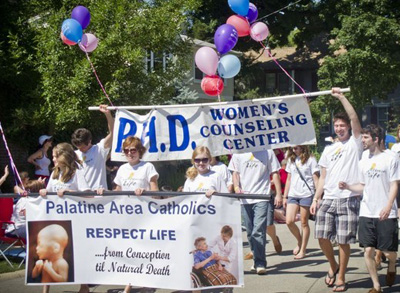 Spot the "offensive photo" in the picture above. Wow this is much harder than "Where's Waldo." Give up? Well it's the ultrasound photo on the banner of course.
The Jaycees have thrown out the "Palantine Area Catholics Respect Life Group" because of the "offensive photo" on their banner and won't allow them to march in this years 4th of July Parade.
"They decided that an unborn baby is too offensive," said Martin Kelley, co-founder of Palatine Area Catholics Respect Life. "It's an ultrasound photo. It's not a picture of an aborted baby. [Source Warner Todd Huston]
Also of course the gay and lesbian group will be allowed to be part of the parade since everybody knows these groups show so much restraint.
Well maybe one day we can have an Independence Day for the Unborn when they are allowed to live.