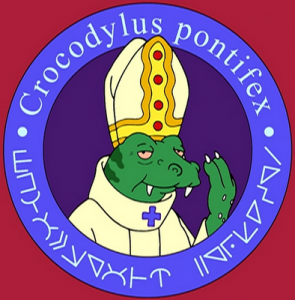 The Space Pope – Futurama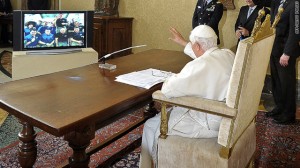 The Space Pope – Present Day
In a first for The Vatican, Pope Benedict XVI called to the heavens on Saturday — but instead of reaching God, he spoke to two Italian astronauts and their 10 colleagues working on board the International Space Station (ISS).
"Dear astronauts, I am very happy to have this extraordinary opportunity to converse with you during your mission and especially grateful to be able to speak to so many of you as both crews are present on the space station at this time," said the Pope, reading in English from prepared remarks. [Source]
In the meantime I am reading Dan Simmon's series the Hyperion Cantos that as part of the plot has the Vatican existing on a planet called Pacem and the Swiss Guard are the elites of the elites in military combat.  Though theological elements are not exactly orthodox.