On Friday Taylor Marshall posted this pitcher of Sitting Bull.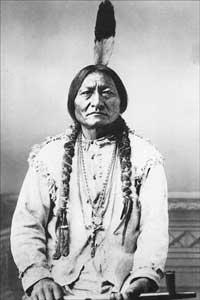 People usually don't see this picture of Sitting Bull wearing a crucifix since the photo is often cropped.
Now I had heard before that Sitting Bull was Catholic convert, but an article I saw today casts doubt on that. Mark Armstrong writing for Catholic Lane notes that this is not known for sure and while Father Pierre De Smet and Bishop Martin Marty were people Sitting Bull trusted and were also men who had baptized Indians in the thousands we have no baptismal records to verify.
His conversion into possibly becoming a Catholic makes a small headline in the New York Times from a story on September 27, 1883, "An unforeseen obstacle to his (Sitting Bull's) reception has been met in the shape of two wives, neither of whom Sitting Bull can make up his mind to part with." The article concludes, "Until the red man brings himself to put aside one or the other of his marital companions he will be debarred entrance."

Thus, he still wasn't a Catholic in late 1883 according to the NY Times article, which references Bishop Marty's efforts to convert him as well: "[T]he famous warrior's reception into the church, will be delayed for a time, it ever takes place. Sitting Bull is at Fort Yates where he has been under the instruction of Bishop Marty for a long time.
The whole article has some in depth historical background and also addresses the deathbed conversion of Buffalo Bill Cody to the Catholic Church. The problem with Sitting Bull's two wives was apparently never resolved and so it is unlikely he was ever officially received into the Catholic Church, though he might have been baptized.