Sometimes you just have to laugh at media coverage on the Church. Case in point this New York Times headline.
Woman in Priestly Garb Sounds 'a Great Echo'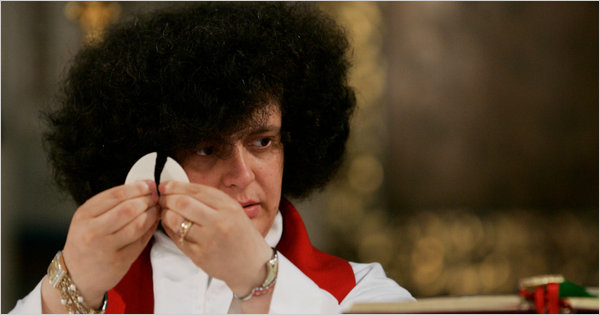 (Look at my Pac-Man imitation – wonka wonka wonka)

MILAN — While other little girls in her hometown of Nissoria, Sicily, were dressing up and playing house, Maria Vittoria Longhitano would pretend to say Mass, dispensing cookies and chips to her toys for communion. Sometimes, she would even baptize her dolls.

As a child, she prayed to St. Rita — much venerated in Sicily — asking for her intervention to become a priest.
Well St. Rita is the Saint of the Impossible and certainly women being priest is impossible since it is Christ's will that only men can be ordained just as it was the will of God that only women can become mothers. But usually people pray to St. Rita for not something technically impossible, just something difficult or improbable.
The article than goes on with the nonsense about the Vatican equating women's ordination with sexual abuse. "We will not veer or stray from this meme and will make no effort to put things into the proper context."
Ms. Longhitano's spiritual journey eventually led her to the Old Catholic Church, a denomination that split from the Roman Catholic Church in the 19th century, mostly over the issue of papal infallibility. She studied theology at the University of Catania.
Well at least she is not pretending to be a Catholic priest. Though I would think she is still excommunicated since she was a Catholic.
It reverberated especially loudly against a backdrop of mounting dissatisfaction — even in this traditionally Roman Catholic country — with what many perceive as the Vatican's inadequate response to the global pedophilia scandal sweeping the clergy. Widely covered by the Italian news media, her ordination seemed to present another instance of a changing society at odds with the Vatican and its worldview.

"It was a strong signal, a way of opening the way," said Mother Vittoria. "Rome is the center of Christianity; I think I gave a sense of hope to sister Catholics."
So the media widely covering something is proof any anything, especially in regards to Italy and the Vatican?
Perhaps, but her Roman Catholic sisters will have to bide their time.
Nice bit of editorializing, but these Catholics sister better not hold their breaths waiting for what will never happen.
Mother Vittoria said that she was actually optimistic about the effects of the recent Vatican pronouncement, and that she believed that the ban on priests could ultimately open the road to having female deacons, who are also not currently allowed in the Roman Catholic Church. "The world is changing, and I see that there's growing support for women," she said.

Vatican observers were more doubtful. In fact, the closing of Vatican ranks to women may be leading more people to the open doors of the Old Catholic Church, Bishop Müller said.
Previously in this article they mention there are about 300 members of the Old Catholic Church in Italy. Gee any day now because of this issue their ranks could swell to 302! Plus look at the wonders women "priests" have done to swell the ranks of Anglicans and Episcopalians. Oh wait these denominations are further shrinking.
"We were excommunicated in 2008, but we rejected it," said Bridget Mary Meehan, a spokeswoman for the Roman Catholic Womenpriests organization, who was ordained a priest in 2006 without Vatican consent. "What matters is that we follow our conscience."
You can do that? Wow how come somebody didn't tell me before. When I got that speeding ticket years ago I would have rejected it. You can't ticket me, I reject it.
Blessed John Henry Cardinal Newman is surely praying for all those who talk about following their conscience yet seem to have no idea about the duty they have to their conscience to inform it. In some ways the conscience is like a map. If you just use any map it might not be accurate. You could easily get lost using a map designed by bad mapmaker. You have a duty to make sure the map you use is correct and to keep it updated – or in the case of your conscience informed. If your conscience is telling you to reject the magisterium and the constant teaching of the Church, you just might need to download an update to that conscience of yours.