This video reminds me of a previous parody.

[Via Creative Minority Report]
You have ordered those DVDs and video tapes off late night TV always looking for the latest thrill. After a while though you wait for something new and daring that hasn't been done before. That is you have waited until now for our great new set of DVD titles.
Jesuits Gone Wild!
We have taken our video cameras to Jesuit institutions across the United States to bring you the latest in entertainment. What you ask – Jesuit Universities? – how boring. These are not your daddy's Jesuit Universities!!!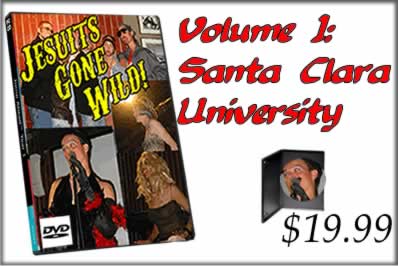 * Pictures from here
Volume 1 takes you inside the annual drag show at Santa Clara University – you guessed it – a Jesuit institution. Now you might balk that these were officially sanctioned by the university and that we are selling these videos under false pretenses. Not only is Santa Clara University officially approve these events they are also promoted as educational.