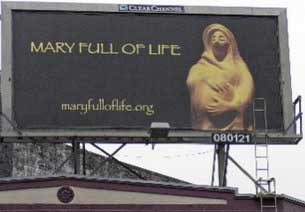 An image of a very pregnant Mary, the mother of Jesus, looks down on Old Town
from a billboard on West Burnside Street and Northwest Third Avenue. In the
weeks before Christmas, she is a reminder of the approaching celebration of
her son's birth.
She's also a testament to a Milwaukie woman's deeply held beliefs.
"I'm not political," says Valerie Aschbacher,
who commissioned the sculpture that was photographed for the billboard. "Mary's not political. She's an image of the gospel of life."
Many people would not agree. They see life — when it begins and how it ends
— as a political issue. Abortion and physician-assisted suicide continue to
be campaign issues for many voters.
So it's not surprising that Aschbacher's billboard has sparked a dispute in
a time divided by life issues.
It is such a sad thing that a pregnant Mary on a billboard cand be condensed
to being a "political issue." That all the Christmas commercialization has
made people immune to the so-called reason for the season. That it was a very
pregnant Mary who made the trek to Bethlehem with her husband Joseph. Yet now
Mary who had a sword pierce her heart will spark a dispute. Not surprising though
since Mary points to Jesus and it is Jesus who is seen as a contradiction
and a scandal that will divide those who won't follow the truth.
"Mary gave birth in the lowliest of places," she says. "Where else would she want to come but to the lowliest place in the state of Oregon."
Growing up in Portland certainly Burnside is not the nicest of areas, though
much improved since the early 70s.
The rest of the article is interesting and nicely no quotes from local abortion
provides to provide "balance." Though the comments on the article are pretty
snarky. As a piece of art it is not much to my taste, but at least the message is true.
Images of an obviously pregnant Mary are rare, said Jane Kristof, professor emeritus
of art history at Portland State University.
"Generally, it was considered undignified," she said. "The same is true of Mary nursing." Artists instead rendered Mary gesturing toward her stomach to suggest that she
was pregnant, Kristof said.
Mary Full of Life "looks like she's pregnant
with the world," said Sheila O'Connell-Roussell, a Marian scholar on staff at Marylhurst University.
She agreed that historical images of Mary are much more subtle about her pregnancy.
[article]
Mostly true, though images of a breast-feeding Virgin Mary were not rare
in Medieval and Renaissance art.