What to get for the girl who doesn't want to have anything? The Planned Parenthood Christmas gift certificate:
"Looking for an unusual, yet practical gift this holiday season? Planned Parenthood of Indiana (PPIN) is now offering gift certificates for services or the recipient's choice of birth control method," the abortion business says.
The gift certificates can be purchased in increments of $25 online at the group's web site or for any amount at some of PPIN's 35 statewide facilities.
While PPIN president and CEO Betty Cockrum says they can be redeemed for contraception, birth control and legitimate medical services like breast exams and Pap tests, they can also be used to pay for abortions.
"Why not buy a loved one a gift this holiday season that they really need," Cockrum says in a press release LifeNews.com obtained. "The gift certificates are also a wonderful idea for that person in your life who puts everyone else first."
Ah, if only King Herod had sent one to Mary . . . Do they have musical cards that play "When A Child Isn't Born"?
Mark Steyn titled his post Complete with Attractive Gift Card Showing Baby-free Manger!
Since 2002 Planned Parenthood has sold Choice on Earth cards and i once provided a "Baby-free Manger" for them.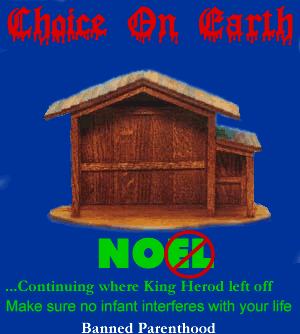 Though it looks like Planned Parenthood has closed down it's online store except for publications this year. So maybe this year we won't have "Choice on Earth" cards, just "gift" cards. Gee at one time I thought it was called the gift of life, not a "gift" card can be used for the "gift" death.
Besides nothing celebrates the birth of our savior Jesus Christ like a Planned Parenthood gift card for abortion and contraception. King Herod must be pleased that the murder of innocents continues to this day and now you can use a convenient "gift" card to sponsor it. The Planned Parenthood gift card, "Don't leave womb without it." In fact just don't leave womb in a single piece.
Their "gift" card should look like this.